Chancellor expected to announce more than £100m of funding to work up plans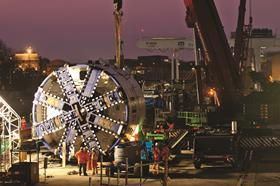 Plans for London's £20bn Crossrail 2 line are set to get a funding boost from the government in chancellor George Osborne's emergency Budget next week, Building has learned.
It is understood Osborne will announce more than £100m of funding to help work up plans for the south-west to north-east line, which will be built after the under-construction first Crossrail line linking north-west and south-east London.
A source close to Crosssrail told Building: "There is likely to be some seed corn money in the Budget - and it will not be an insignificant number, probably north of £100m, just to keep the project moving. The consultation is done, this will help get it through to planning."
Consultants recently submitted a report to Transport for London justifying the £20bn cost, most of which will be spent on 36km of new track for the scheme. A source who has seen the report said: "There's significant benefit in terms of this project helping [transport] with the future growth of London."
A spokesperson for the Treasury declined to comment on the potential Crossrail 2 funding when contacted by Building.
Construction on the scheme is planned to start from 2020, and the line could open as early as 2030.
In December last year, a public consultation on Crossrail 2 found that 95% of the 14,000 respondents are in favour of the project, while it is estimated that the new line could add 10% to London's transport capacity.
A detailed public consultation on the route is set to take place later this year.
Speaking in March, transport secretary Patrick McLoughlin said Crossrail 2 "has the potential to improve connectivity, increase capacity and generate tens of thousands of jobs".
The first Crossrail is currently under construction and is due to open in 2018, bringing an extra 1.5 million people within 45 minutes of central London.