Andrew Wolstenholme warns tunnelling specialists will go overseas unless major infrastructure projects are brought forward to fill gap left when Crossrail is completed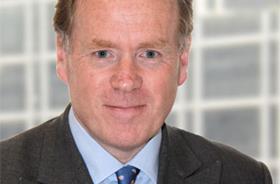 The chief executive of Crossrail has warned that 3,500 tunnelling experts and civil engineers could leave the country if no new big infrastructure projects are brought forward to replace the scheme when it is completed.
In an interview with the Times, chief executive Andrew Wolstenholme said the £15bn project was now reaching the halfway point of tunnelling under London, meaning agreement from the government to bring forward other major infrastructure projects, such as the Thames Tideway Tunnel or Crossrail 2, was becoming more urgent.
He warned that a hiatus between projects could see around 3,500 tunnelling specialists that have developed their expertise on the Crossrail project leave for projects overseas, particularly in the Middle East, where there are large projects underway in Qatar, in preparation for the 2022 World Cup, and in Saudi Arabia, which is investing heavily in infrastructure.
Wolstenholme said: "If there is a two-year discontinuity between major infrastructure projects, our tunnelling capability will go overseas and find projects elsewhere.
"The supply chains really need to go on to a Crossrail 2 or an HS2 or a Thames Tideway within the next two years."
He continued: "In terms of our consultant and contractor resources, we now have a UK capability.
"We have reacquired the skills to deliver major tunnelling programmes. Terminal 5, King's Cross, the Olympics, Crossrail … there is increasing confidence in the reputation of the UK for delivering mega-projects on time, on cost, to a world-class standard."
Wolstenholme is a former army officer who previously led construction of Heathrow's Terminal 5.
In the same interview, he also confirmed that Crossrail was on schedule for opening in December 2018.