Resources director Valerie Todd, who left last year, given nearly £445,000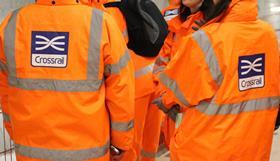 Senior staff who left Crossrail in the last financial year picked up more than £1m in compensation with nearly half of this figure paid to its former talent and resources director.
A draft of Transport for London's Annual Review and Remuneration Report revealed that seven senior Crossrail staffers were paid £1,066,698 in compensation for loss of employment in the 12 months to the end of March 2019.
Among those picking up pay-offs were former chief executive Simon Wright, who received £4,000, and finance director Mathew Duncan, now the chief financial officer at Tideway London, the firm behind the super sewer, picking up just over £125,000.
Legal services director Mark Fell, who left last July, was given £174,000 while its surface director Matthew Wright, who left this February, was handed £145,000.
But all the payments were dwarfed by the £444,378 given to ex-talent and resources director Valerie Todd, who started as human resources director at the UK and Ireland business of German engineering Siemens last October. Todd left last April.
Sir Terry Morgan, who was ousted as chair last December, was paid a salary of £170,243 for the year but the accounts show that he did not receive compensation for loss of employment.
Wright, who served as chief executive between April and November last year, received a bonus of £54,055 for his work in 2017/18 – but paid in the year 2018/19 – when he was Crossrail's programme director.
Mark Wild, who took over from Wright as chief executive of Crossrail last November, was paid £404,937 by TfL for his work in 2018/19, which includes both salary and bonuses for his work as London Underground managing director prior to being seconded to Crossrail. This was an increase of 23% on his previous year's pay.
New chair Tony Meggs was paid £46,209 for two days work a week over the 10 weeks between taking on the role on 14 January this year and the end of March.
Overall the number of Crossrail employees being paid more than £50,000 fell from 292 in 2017/18 to 240 in 2018/19.
The number of those receiving more than £100,000 a year slipped from 53 in 2017/18 to 47 in 2018/19.