Testing of trains along the route started last week, six weeks after originally scheduled
Crossrail will renew its construction push next month to "catch up" on work paused during a delay in trial running of trains along the route.
The railway's chief executive Mark Wild said in an Elizabeth Line committee meeting yesterday that the pause, termed "blockade" by Crossrail, will help the project speed up work that had been delayed.
It follows the official start of trial running last week, six weeks after the originally scheduled start date for the tests.
Four trains an hour are now running through the £18.6bn line's central London tunnels to make sure that the route is safe and reliable.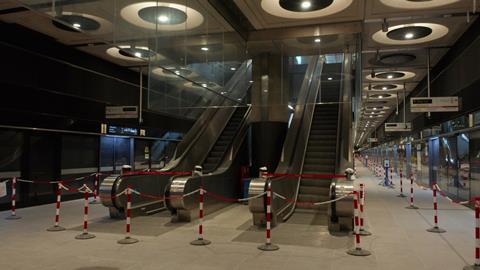 Wild said that while the project "didn't achieve" its aim to start the tests in late March, the beginning of the trials last week was two or three weeks ahead of the "risk adjusted dates".
He admitted that it had been a "challenging" time and the project had learned "so much" in the process, and said that he believed trial operations are on track to start later this year.
Trial operations test the line's ability to operate the railway, but cannot begin until all nine central London stations have been handed over to Transport for London.
Next month's blockade will be the third on the project following a six-week push last summer to make up for time lost during covid-19 pandemic restrictions.
A second blockade, which paused train testing to allow for a period of round-the-clock construction, started in November last year to get the line ready for the next stage of testing.
Currently, only Farringdon, Custom House and Tottenham Court Road stations have been handed over.
In its latest monthly report, Jacobs said it had identified problems with four stations, Bond Street, Whitechapel, Paddington and Canary Wharf, for which "mitigation measures" would be needed.
It raised particular concerns with the troubled Bond Street station, finding that "concessions may be required" to achieve its delivery dates in time for trial operations.
Wild said in response to the report that he was confident that Bond Street would be ready since an assurance strategy had been drawn up with both London Underground and Crossrail keeping a close eye on the situation.