Paddington contractor Costain Skanska also meeting railway bosses three times a week over productivity concerns
Crossrail is at risk of busting yet another opening deadline if it does not make "concessions" on its problem Bond Street station project, the consultant charged with keeping an eye on the scheme has warned.
In its latest monthly report, Jacobs said a review of the job has "identified challenges with the delivery of four stations, Bond Street, Whitechapel, Paddington and Canary Wharf for which mitigation measures will need to be developed".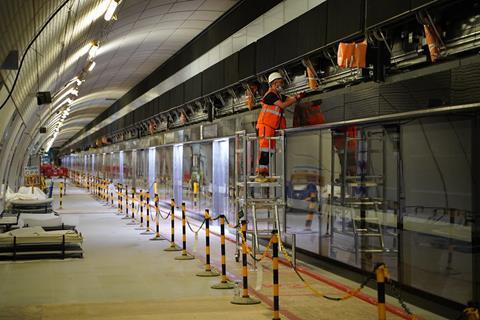 But the consultant, which is the project representative for sponsors Transport for London and Department for Transport, raised particular concerns about Bond Street.
The report, which covers the four weeks up to 6 March, said: "Concessions may be required to achieve the challenging dates for delivering Bond Street Station in time [redaction] for Trial Operations and Stage 3 Opening, if it is not to put at risk the broader railway opening for stage 3 passenger service."
Stage three services, which are those running from Abbey Wood in the east to Paddington in the west, are due to start in the first half of next year.
Jacobs said the mitigations required at all four stations were likely to include "further enhanced collaboration from all parties" and the streamlining and modification of the assurance process.
It said making this process more efficient needed to happen because it was leading to a backlog of works with stations "forced into a queue system".
Responding, Crossrail chief executive Mark Wild said: "Paddington, Canary Wharf, Bond Street and Whitechapel stations are all moving in a positive direction. This has not been stated to undermine the challenges at each of the aforementioned stations, particularly in relation to the impacts of trial running requirements and restrictions.
"Mitigations have been put in place which are being reviewed and supported by the executive team and all relevant stakeholders. Each challenge is be addressed at the appropriate level and is being escalated as and when necessary."
He said he was confident Bond Street would be ready since an assurance strategy had been drawn up with both London Underground and Crossrail keeping a close eye on the situation.
Jacobs also raised concerns about assurance productivity on the Paddington station job, which is being built by a Costain Skanska joint venture (CSJV), saying "that [it] is likely to impact its completion date, adding further pressure to start of trial operations".
Wild said the project was on a weekly "watch list" and was being reviewed by the Crossrail executive team and TfL commissioner Andy Byford. Wild added the JV was meeting Crossrail three times a week to discuss progress on the job.
CSJV was also building Bond Street until it and Crossrail parted ways on the job last year.