Papers published ahead of board meeting tomorrow
The fit-out and installation at Crossrail's central London stations and tunnels is set to be finished by the end of 2019 – a year after the line was due to open.
Documents published ahead of a Transport for London board meeting, which will take place on Wednesday, have revealed that Crossrail expects the work to be completed over the next seven months in order to leave sufficient time for testing.
Those attending the meeting will include London mayor Sadiq Khan and Crossrail chief executive Mark Wild.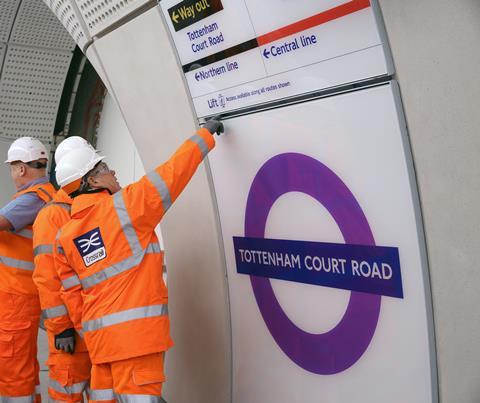 The documents said: "Crossrail expects that the remaining fit-out and systems installation in the stations and tunnels will be completed this year.
"This will allow the new stations and rail infrastructure to be integrated with the rest of the railway."
But this does not include Bond Street given Crossrail chief executive Mark Wild has confirmed the design of that station, which is being built by a Costain/Skanska joint venture, will not be finalised for at least another four months.
Addressing MPs on the Public Accounts Committee last week, Wild said: "Bond Street is 18 months to two years away from completion. Its design isn't complete and its design won't be complete until September or October."
Wild said Tottenham Court Road, which is being built by Laing O'Rourke, is the most advanced of the central London stations.
"Although it looks physically complete the electrical engineering, the migration of activities, will take us to August or September. Our most advanced station won't be finished until August or September," he said.
Wild has previously said Crossrail will not open until March 2021, with Bond Street station opening at an unspecified date afterwards.