Construction of rail link already boosting property, says GVA report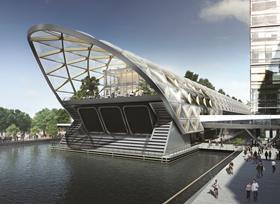 Delivery of the Crossrail route in London will boost property values by £5.5bn between 2012 and 2021, according to a new report by property consultant GVA.
The report finds Crossrail is already having a positive impact on property values across the capital, particularly along the 118km route that will link Maidenhead, Heathrow and Shenfield with central London.
The £5.5bn figure is equivalent to over a third of the total £14.5bn estimated cost of constructing Crossrail.
The report was produced by GVA for Crossrail.
Andrew Wolstenholme, Crossrail chief executive, said: "Crossrail is already having an impact on property investment decisions.
"In many areas, Crossrail will have a transformative impact as a result of new journey opportunities and direct access to London's major employment areas."
Mayor of London, Boris Johnson, said: "Crossrail is vital to support London's growing population and to ensure our city's future economic prosperity in an increasingly competitive world.
"These latest figures demonstrate the impact of this ambitious project is already taking hold, creating jobs and sparking regeneration across the capital. This is good news not just for Londoners but for the nation's economic health as a whole."
Liz Peace, chief executive of the British Property Federation, said: "Modern and reliable infrastructure is vital for economic growth and the case for further investment is compelling when you see the benefits of the Crossrail project clearly spelt out.
"As well as acting as major catalyst for regeneration along its route, Crossrail demonstrates that investing in infrastructure makes sound economic sense."