NAO warns contractors unlikely to prioritise Crossrail work on lump-sum, fixed-price contracts
Crossrail has been told it needs to motivate contractors with financial bonuses in order to get the £17.6bn job done in a "timely and efficient manner".
The National Audit Office (NAO) has said that it is imperative the company responsible for getting the late-running scheme over the line use cash to get contractors to prioritise their work on Crossrail ahead of other schemes.
The public spending watchdog said: "To regain control of costs and prevent them from escalating further, Crossrail Ltd needs to incentivise contractors to deliver the remaining work in a timely and efficient manner."
In a report published last Friday, titled Completing Crossrail, the NAO raised questions about Crossrail's decision to use fixed-price, lump-sum deals to complete some of the remaining work.
It said: "This form of contract means that Crossrail Ltd risks losing commercial levers to ensure that contractors prioritise completion of Crossrail over other projects and opportunities."
But construction law experts have said given the current state of the project, it was not a surprise that Crossrail had opted for cost certainty.
James Bessey, partner at law firm Blake Morgan, said it demonstrated Crossrail was focusing on cost certainty rather than trying to lower costs or speed up the construction programme.
"It shows that the problem on this job is that it has been subject to massively escalating costs," he said.
"This move signals that the political pressure is trying to keep costs under control by establishing a set price."
The NAO did concede Crossrail's reason for using fixed-price contracts was "understandable, given the need to improve certainty about the cost to deliver remaining work and to arrest the sharp cost increases".
Bessey added the fact contractors working on the scheme now know where all the risks lie means they can build both time and money "buffers" into their pricing.
He said: "The trouble is the contractors asked to price on a lump sum basis can say it's going to take
50 weeks and cost £500m and there is no incentive to get it done in 48 weeks or for £480m.
"In curing one problem you are creating another. Looking at their decisions, the strong inference is that cost certainty is their priority rather than trying to reduce either costs or programme, which might not bear fruit."
Bessey's colleague Dominic Jones, a senior associate at the practice, agreed that the procurement approach showed Crossrail's priority was to ensure things got no worse.
He said: "Given the political context, the worst-case scenario for those leading the project would be for it to be over budget or not delivered within the opening window."
Jones also warned Crossrail it must avoid making the number of design changes it has over recent years if it wanted to reap the benefits associated with lump-sum contracts. Design changes cost Crossrail around £714m between 2013 and 2018, according to the NAO.
The NAO revealed another challenge for Crossrail finishing the project, saying it had "struggled" to recruit the skills it needs.
It said: "It [Crossrail Ltd] told us it has 143 vacancies in its central delivery teams, including project delivery teams to work with main contractors to deliver the programme."
It said there were another 33 vacancies across other areas.
Crossrail's problems in numbers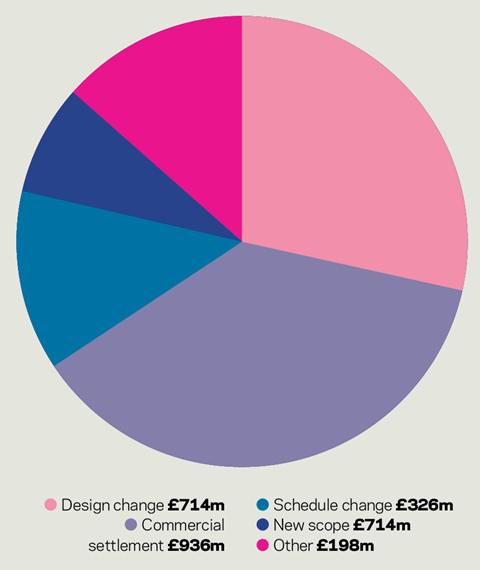 16,000

By January 2015, contractors had raised 16,000 notices with a backlog of 1,000 yet to be assessed

21,000

by January 2016 the number of notices had increased to 21,000, with 1,800 yet to be assessed