The developer undertook £248m of capital expenditure last year, its results disclose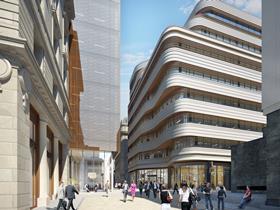 The Crown Estate has announced a record return to the Treasury from its property activity of £267.1m last year.
It undertook nearly £1bn of capital activity, comprised of £248m of capital expenditure including development, £264m of acquisitions and disposals totalling £457m.
Major developments include rolling redevelopment of London's Regent Street and St James's areas, refreshes of regional retail parks and several major offshore wind farm developments.
The Crown Estate was established by an Act of Parliament in 1961 to manage estates on behalf of the Queen, for the benefit of the UK Treasury.
Alison Nimmo, chief executive of The Crown Estate said: "It's been another fantastic year for The Crown Estate and with a portfolio now valued at close to £10bn, this record performance shows that from the heartlands of our real estate business to our investment offshore, we're truly at our best when we're actively managing."