Venue will host the canoe slalom event at the Rio 2016 Olympics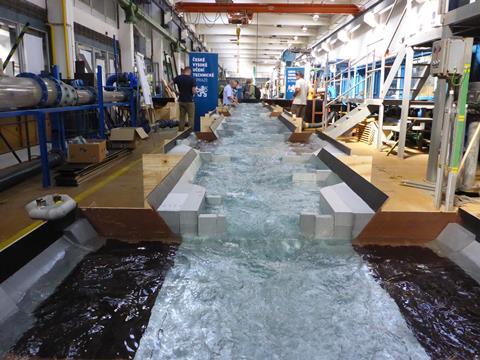 Cundall has finalised designs for the whitewater venue that will host the canoe slalom events at the Rio 2016 Olympics.
The engineering consultant tested the proposed design with a 1:13 scale hydraulic model at the Czech Technical University in Prague (pictured above) to help optimise the design of the course.
Cundall was involved in designing the London 2012 whitewater park (pictured below) and said the Rio venue is applying "many of the successful outcomes" of the London venue to the new course to help meet the "compressed timeframe" for delivery, although the firm stressed the Rio venue would have its own "unique whitewater character".
The Rio whitewater venue involves the pumping of 12 cubic metres per second for the main channel.
The whitewater venue will be one of nine in Rio's Deodoro Zone, which will also host shooting, equestrian, modern pentathlon, hockey, BMX, rugby and mountain biking events.
Construction began on the Deodoro Zone this month.
The whitewater venue specialist design team is led by Whitewater Parks International (WPI).
The Cundall civil engineering team working on the Rio project is based in Newcastle.
Commenting on the testing process in Prague, Cundall said: "This type of modelling is intended to observe hydraulic behaviors in various flow scenarios and structural configurations, the results of which then further inform the final design of the project.
"Key parameters such as channel geometry, gradient, flow rates and obstacle placement are experimented with and considered as to how exactly they influence hydraulics effects such as depths, velocities, directional shifts, momentum, surging, recirculation and feature formation."