Chairman who played pivotal role in 2007 merger that created RLB to be succeeded by Ann Bentley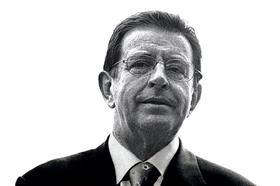 Rider Levett Bucknall's UK chairman David Bucknall has announced he will retire from the firm next month, to be replaced by current operations director Ann Bentley.
Bucknall, son of Charles Bucknall who founded the quantity surveyor Bucknall Austin in 1947, has held leading positions in the firm for several decades since joining in 1961, including heading a management buyout of the company in 2003.
Bucknall also played a leading role in the 2007 merger that created RLB, bringing together Australian firm Rider Hunt, Hong Kong-based Levett and Bailey and Bucknall Austin.
Bentley will succeed Bucknall as chairman and will take a seat on the firm's global board after a vote of UK staff-shareholders.
The 73-year-old Bucknall will continue with his role as chairman of the RICS QS professional board and said he was looking at getting involved in a "number of other initiatives".
He told Building he was exploring opportunities to "add value and integrate a rather fragmented industry" but said he would not get involved in "any direct competition to RLB".
Bucknall said he was "proud to have kept RLB independent and kept it away from the predators" - referring to the spate of takeovers of UK consultants in recent years.
Lance Taylor, chief executive of RLB, said: "David has been pivotal in establishing Rider Levett Bucknall as a 21st century global player.
"His innovation and passion has driven both the firm and the quantity surveying profession as a whole into the cutting edge profession it is today."
Bucknall served as senior partner and then chief executive in the seventies, eighties and nineties. A takeover by a venture capital firm in 1998 led him to spend a five-year stint elsewhere in the profession, before his return to the company in 2003.
Bucknall added: "My passion and enthusiasm for the profession is undiminished. There is a great opportunity for the quantity surveying and project management sector to be part of the process of adding value across the whole life of buildings."
Bucknall will retain a role in RLB's Protégé graduate recruitment scheme that he launched seven years ago.
RLB employs 2,700 people in 120 countries.