Company posts pre-tax profit after chief executive completes two year restructuring
Kier returned to the black last year after a two year restructuring programme which has seen thousands of people leave, the firm sell its housing business and complete a £240m equity raise.
Chief executive Andrew Davies arrived in April 2019 and immediately began a top to bottom overhaul of the group which had been labouring under a huge debt pile and industry fears that it would be the next Carillion – the listed contractor which imploded at the start of 2018.
But in its latest set of results, the firm posted a £5.6m pre-tax profit in the year to June from a £225m loss last time. Operating profit recovered from a £196m loss to a £44m profit in the period.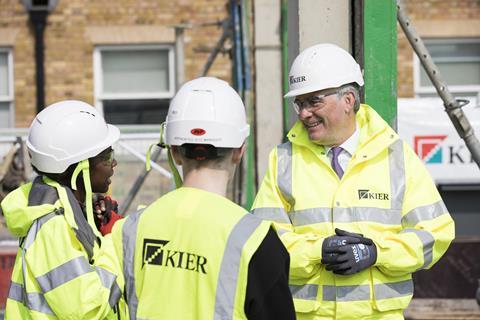 Turnover was down 4% to £3.3bn after it pulled out of some loss-making FM and environmental services contracts, adding that completing some jobs, such as motorway upgrade work, and delays to jobs starting because of the impact of the covid-19 pandemic also blunted revenue. Davies has said the firm expects to see income hit between £4bn and £4.5bn in the medium term.
The firm has raked in around £350m through the equity raise and sale of Kier Living, both completed earlier this year, which Davies has promised will be used to shore up its balance sheet.
It said that average month-end net debt had barely shifted from £436m to £432m – a result it added of the proceeds arriving in the final weeks of the year meaning their impact was limited – but the firm had a year-end cash position of £3m from the £310m debt at the end of June 2020.
The firm now has around 10,800 employees in the UK, a 20% drop on the 13,500 it employed in the UK last time, having spent £5.4m last year on redundancy payments.
Its biggest business, construction, which includes regional building and strategic projects, saw revenue slip 3.5% to £1.8bn but its operating profit climbed back into the black to hit £40.7m from a £52.3m loss last time.
Infrastructure, which includes its highways and rail work such as the HS2 scheme, also saw turnover slip – by 5.5% to £1.4bn although the firm improved operating profit from £9.4m to £41.4m.
The firm said it booked a £12.1m loss on the sale of Kier Living while it racked up a further £31.6m in restructuring costs which included closing offices at its Southern Build business and settle several contract claims. It added that it shelled out £8.3m in fees for the equity raise.
Kier said it paid back £61m of VAT and payroll taxes deferred from 2020 because of the pandemic with a further £18.8m of deferred VAT still left to pay.
Davies said: "We have completed the strategic actions set out in 2019 to simplify and focus the Group, improve cash generation and strengthen our balance sheet. We are now focused on delivering our medium term value creation plan."
The firm's order book at the year-end was £7.7bn, down from £7.9bn last time.