Airport's new development director sets out five-year plan and value of T2 second phase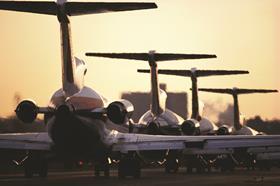 The delayed second phase of Heathrow Terminal 2 could be worth as much as £5bn in construction value, according to Heathrow's new director of development.
Heathrow Airports Ltd, formerly known as BAA, this week confirmed it was set to delay by almost five years the construction of the T2 second phase, to be built on the site of Terminal 1.
Building revealed in October last year that completion of the project, which was earmarked for 2019, was set to slip into the next decade.
This week Heathrow published a £3bn development plan for the five years from 2014, which it calls the Q6 period, in which it said it would start work on the project, but that it would complete in "late Q7" - the period running from 2019 to 2024.
John Holland-Kaye, development director at Heathrow Airports, said the overall T2 second phase, which is designed to cater for 10 million passengers a year, would be worth £4bn-£5bn to the construction industry, making it more expensive than the £2.5bn first phase of T2, due to open in 2014.
Speaking to Building, Holland-Kaye, who replaced former capital director Steve Morgan after his exit last October, said the timing of the second phase was because of the "natural pace" at which construction was possible on such a constrained site while keeping the airport operational.
He said demolition would start on Terminal 1 in the next five-year period, as would the construction of the transit system and satellite operation required to service the second phase of T2. About £400 would be spent on the project by 2019, a tenth of the total cost.
The decision comes at a time of political uncertainty over the future of Heathrow airport, regulatory pressure that has forced the operator to sell its other airports, and a fall in passenger numbers since the economic downturn.
Heathrow Airports expects investment to reduce year on year over the Q6 period, from £660m in 2014/15 to £464m in 2018/19.
This compares with average annual spend of over £1bn for the past decade.
Holland-Kaye said Heathrow will adopt the same procurement approach for Q6 as under Morgan's regime, but that the greater number of smaller contracts meant there would be more opportunities for smaller suppliers.

Major projects for Q6
Opening of T2 first phase and closure and demolition of T1
Northern runway resurfacing and taxi space for A380s
Creation of new passenger interchange at central terminal for Crossrail, road and underground access