Council had budgeted to fork out £179m but scheme falling behind schedule saw huge underspend
Birmingham council spent almost £60m less on the project to build the Commonwealth Games athletes' village than it planned in the first three months of this year because of delays to the programme.
Papers published ahead of next week's meeting of the council's cabinet have revealed the council shelled out £117m rather than the £179m it had planned in the final three months of its 2019/20 financial year.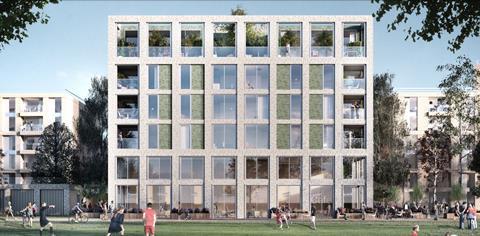 Among the reasons for the underspend it gave were "continued slower than anticipated progress on land acquisitions following confirmation of the CPO [compulsory purchase order], with consequential delays in overall demolition progress".
It added: "Construction of accommodation element is also subject to further delays due to extended negotiations with tier 1 contractors and slow down in works undertaken in March as onsite works were suspended due to covid-19."
There have been increasing concerns about the deliverability of the Perry Barr project.
In February, the council said it would be forced to find more cash or scale back plans for the project, saying it was "no longer possible" to build the scheme (pictured) to a previous budget of £492.6m or to "deliver the village in the way originally envisaged".
That was before the covid-19 crisis sent the industry into reverse with the pandemic heaping more pressure on the project.
The department for digital culture, media and sport is now running the rule over costs and a spokesperson added: "As you would expect with any major project, we work very closely with our Games partners and keep all aspects of the Games under review as plans progress."
Building understands that areas of the athletes village site previously earmarked for homes have been pulled. One source said: "A plot we were bidding has fallen through."
Lendlease is principal contractor on the village which will accommodate around 6,500 athletes and officials during the games and will later be turned into a mixed-use development featuring more than 1,100 homes.
The building packages on the job have been subcontracted out to a number of major contractors with both Willmott Dixon and Kier working at the site.