Chief executive of Olympic Delivery Authority given permanent legacy job after taking over from Andrew Altman in August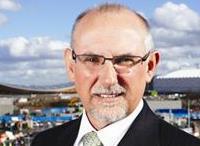 The man in charge of the Olympic building programme for the last two years has been appointed chief executive of the London Legacy Development Corporation, which will oversee the long-term regeneration of the Olympic Park.
Dennis Hone has been chief executive of the Olympic Delivery Authority since the departure of David Higgins in February 2011, a period during which the ODA won plaudits for delivering the £9.3bn programme on time and under budget.
Hone has been interim CEO of the Legacy Corporation since former chief executive Andrew Altman left to pursue other opportunities in August. He will continue in charge of both bodies until the wind up of the ODA in March next year.
Before becoming chief executive of the ODA Hone was the body's finance director, having joined from former regeneration agency English Partnerships. Hone is paid £195,000 a year with an additional bonus of up to 20% of his salary.
Hone said he was "delighted" to be offered the job. "It's been a privilege to be part of the team that helped to deliver the London 2012 Games and I'm delighted to now have the opportunity to deliver its legacy in East London.
"We have a huge amount of work to do in this next phase to create Queen Elizabeth Olympic Park and I'm looking forward to leading the Legacy Corporation to meet this challenge."
Boris Johnson, mayor of London and chair of the Legacy Corporation, said: "It is my top priority to transmute the success of this summer into solid economic returns to benefit London for decades to come. Dennis brings a wealth of skills and experience vital to helping bring our ambitious plans to successful fruition."