Trade group says single body overseeing 20-year programme is only way to make net zero plans work
A department of retrofit needs to be set up to oversee a 20-year programme to make the UK's aging housing stock more energy efficient, the government has been told.
Federation of Master Builders chief executive Brian Berry said the only way carbon emissions from heating the country's 29 million homes can be tackled is if it is co-ordinated by a single agency or department.
Speaking during a Building webinar on residential retrofits last week, Berry said: "It really is beholden on the government to show leadership, real leadership, and understand the scale of the problem.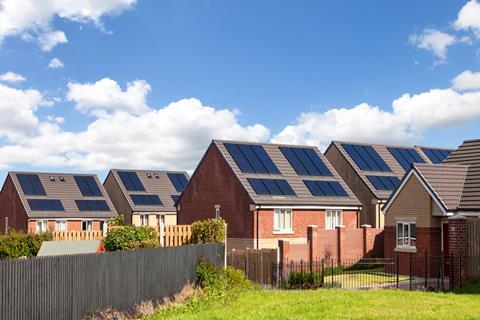 "I think it's a national infrastructure project, it should be on that scale. It's going to take decades and we need to start it now."
He added: "We cannot afford to wait any longer if we're going to upgrade our existing homes and the only way to do that is to have some form of agency or department, someone co-ordinating all of this to make sure it will happen."
The comments also come as the construction sector awaits the publication of the government's heat and building strategy, which will set out how to decarbonise the UK's built environment.
The document, which was originally promised in February this year, is expected to be published within the next few weeks before the COP26 climate conference in Glasgow in November.
The government is under pressure to explain how it plans to make UK homes more energy efficient so it can achieve its goal of net zero emissions by 2050 following the failure of the Green Homes Grant earlier this year.
The £1.5bn scheme, which offered homeowners vouchers covering part of the cost of energy efficiency improvements to their homes, was scrapped in March.
Just 10% of the 600,000 home upgrades the chancellor promised were carried out, with the low take-up partially blamed on a flawed accreditation scheme for installers.
Berry said the scheme was "disappointing to give it an understatement".
He added: "We had to promote the scheme to our members, provide an access for them to become accredited [and] only a few of my members took up the offer."
He said those who did sign up to the scheme "lost quite a lot of money for small companies" which he said has since undermined the construction sector's confidence in investing in future government retrofit initiatives.
"This time the government has really got to get it right because otherwise builders will say 'what is the point, we've got huge demand in RMI, there's a shortage of builders, we don't need all this, we're just going to do what we do and there won't be that take-up'."
Berry attends regular meetings with government departments to discuss retrofit strategies but said he was concerned that ministers might not adopt a "holistic approach".
He added: "Past performance hasn't been very encouraging but let's wait and see.
"The mood music on the heat and building strategy seems to be positive, I'm trying to be optimistic but the devil's in the details."
The FMB has outlined eight key elements which the groups said would need to be adopted together for a retrofit strategy to work.
They include financial incentives, new skills qualifications, linking up with local authority-led initiatives and a compliance regime to ensure homeowners' confidence is not undermined by shoddy work.
The Construction Leadership Council has proposed a retrofit programme costing £525bn over the next two decades, with funding split between the public and private sectors.
The FMB has said around 100,000 jobs could be created in the first four years of the programme along with savings of £1.4bn for the NHS and "substantial" savings in energy bills.