The venue was designed by FaulknerBrowns, project managed by Mace and built by Bowmer and Kirkland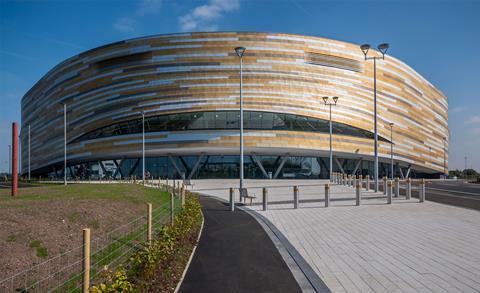 Derby Arena has opened its doors to the public. The purpose-built multi-sport venue has been designed by FaulknerBrowns Architects and houses the first velodrome built in England since the 2012 Olympics, as well as twelve badminton courts, a gym and a sports hall.
Arup provided the civil, structural, mechanical and electrical engineering for the project, which was project managed by Mace. Bowmer and Kirkland was main contractor for the venue, which can hold up to 5,000 spectators for both sporting and non-sporting events, including exhibitions and conferences.
The Arena opened for a launch event last Thursday, and will host its first sporting fixture this evening (Tuesday), when the University of Derby badminton team host Milton Keynes in the National Badminton League.
John Read, associate director of building for Arup Midlands said: "Derby Arena has been a great project to work on, with a very collaborative and enthusiastic team from Derby Council, Mace, Faulknerbrowns, Arup, and Bowmer and Kirkland and their supply chain."