Canary Wharf begins tendering work on £1.2bn scheme as its expects "succesful outcome" in court battle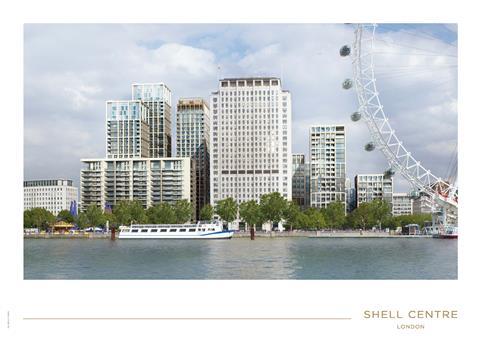 The developer of the controversial £1.2bn Shell Centre scheme on London's South Bank has begun tendering the first construction work on the project, despite a legal challenge to the government's decision to give the scheme the go-ahead.
Communities secretary Eric Pickles gave the green light to the Squire & Partners-designed Shell Centre scheme in June, but that decision was then challenged by a single individual in the courts.
The scheme is being developed by Canary Wharf Group in a joint venture with Qatari Diar.
In its half-year report, published today, Canary Wharf Group, which is also acting as construction manager on the project, said it was "disappointing" that the legal challenge had been launched but that it "remains confident that plans will proceed as hoped".
The developer said the legal challenge would be heard in court in December 2014, but in the meantime it was pressing ahead with its plans for the scheme, including tendering the first construction contracts.
It said: "In anticipation of a successful outcome, the joint venture is continuing to work towards completing documentation with Shell; design of the first phase of buildings and tendering of the initial construction packages; and preparation of the marketing and sales campaign for the private residential apartments."