Developers Delancey and Landid to take charge of Manchester regeneration project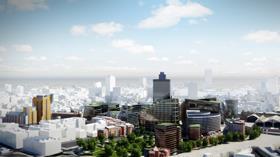 Developers Delancey and Landid have been named preferred bidder to develop the £800m Northern Gateway scheme in Manchester by the Co-Operative Group.
The scheme, nicknamed Noma, is Britain's largest regional redevelopment project comprising 4 million ft2 of office, retail, residential and leisure space.
The site surrounds the Co-Op's new £100m headquarters due to be completed by Bam later this year.
David Pringle, the director in charge of Noma, told today's Times: "Delancey and Landid have both demonstrated their ability to carry out large mixed-use developments and their commitment to Manchester through previous developments."