EDF announces £150m programme to keep nuclear plant operational until 2028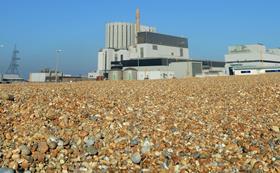 The expected life of Dungeness B nuclear power station in Kent has been extended by 10 years, EDF Energy will announce today.
The company is investing in a £150m programme to keep the station operational until 2028, producing enough electricity each year to supply the equivalent of 1.5 million homes.
The announcement comes after extensive reviews of the plant's safety cases and work with the independent nuclear regulator, the Office for Nuclear Regulation (ONR). The station will also be subject to continuing independent safety reviews by the ONR.
Improvement projects at Dungeness B, which started generating in 1983, have already included a £75m upgrade to control room computer systems and £8m on enhanced flood defences.
The life extension at Dungeness B is part of a wider EDF programme to extend the lives of its eight nuclear power stations. All seven of the company's advanced gas-cooled reactors are expected to be still operating in 2023, when the new station at Hinkley Point C in Somerset is due to be commissioned, subject to a final investment decision.
Martin Pearson, station director at Dungeness B, said: "We've invested heavily in Dungeness so that we could make the case to safely extend its life by 10 years. Life extension means the station will continue to provide hundreds of skilled jobs and provide a launchpad for the apprentices who will begin their careers at Dungeness B."
EDF will also announce today a strategic nuclear partnership with Amec Foster Wheeler, Cavendish Nuclear, Atkins and Doosan Babcock to share knowledge and expertise in support of the nuclear stations.