Capco looks for housebuilder or contractor for Earls Court redevelopment project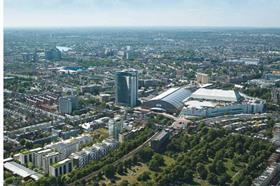 The developer behind the £8bn redevelopment of Earls Court in west London, Capco, is considering establishing a joint venture with a contractor or housebuilder on the mammoth 77-acre project.
Richard Powell, director of planning and development at Capco, said the developer had spoken to contractors and housebuilders about a potential partnership, but refused to disclose the identities of the firms.
Powell said Capco is not looking for cash because it is able to source funds for the "entire project", but instead is looking for "know-how".
He said: "We're not a housebuilder or a contractor, so we're open to discussions on how to bring those skills on board."
Capco won outline planning consent for the 7,500-home neighbourhood from Hammersmith and Fulham council in September.
An outline planning decision from the second London borough covered by the scheme – Kensington and Chelsea – is expected later this month.
Capco plans to demolish the famous Earls Court Exhibition Centre to make way for the scheme, which will also include offices, leisure, hotel and retail space, a primary school, library, an integrated health centre and five-acre public park.
Powell said: "We think the Earls Court Masterplan is one of the most exciting developments in London. Our focus is on delivering planning for the Masterplan in the Royal Borough of Kensington & Chelsea following the recent approval by the London Borough of Hammersmith & Fulham.
"We have always been clear that as we move forward into the delivery phase we will be looking for partners in a whole host of areas."