Chief executive Philip Youell rejects takeover talk as partners vote for listing to raise up to £350m
EC Harris plans to raise up to £350m by floating the partnership on the stock exchange to fund its growth plans.
The decision to float at least 60% of the £310m-turnover firm was voted through unanimously at the weekend by its 188 equity partners. The plan is to list when the company hits turnover of between £400m and £500m.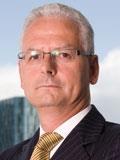 It will achieve this first growth phase through acquisition, and while it is not known how much the listing would then raise, this year's profit of £40m and a top-end multiple of 14x would value it at £560m. If profit rises in line with turnover, the warchest raised by floating 60% of the firm could be up to £350m.
The plan to float the 3,000-strong firm, which is likely to happen in 2013, comes in the week that fellow consultant Scott Wilson has become the subject of a bidding war between the two US consulting giants URS and CH2M Hill. It also comes as Building understands US firm Aecom is closing in on its takeover deal for Davis Langdon.
But Philip Youell, EC Harris chief executive, said he would not choose to be acquired: "After a strategic review we realised we needed to build the business quickly and that growth cannot be sustained by partner capital. We have been approached by intermediaries about the possibility of a sale to one of the big US engineers but don't believe it is appropriate. We want to be a leader in our own right and earn fee-based revenue rather than as part of a bigger group that gets income as a cut of client spend."
EC Harris plans to hit turnover of $1bn - Youell says the dollar figure shows its global ambition - in about four years and the need to grow is being driven by increasingly large projects in what he calls the "shifting socio-political landscape".
He said: "There is a demand for the rebuilding of infrastructure around the world. That investment, even in these weak economic circumstances, will continue due to the need to create the right fiscal environment for recovery and the underlying demand of nations." He cited the high-speed rail link and Crossrail in the UK as examples, as well major infrastructure projects such as ports and airports in Hong Kong and Vietnam. Youell plans to increase staff to 5,000 by 2013 to cope with this demand.
In order to hit a turnover figure of £400-500m, it will fund the acquisition of other companies through partner capital and bank debt, with the focus on North America and Asia. When listed, the debt will be wiped out and the plan is to begin life on the stock market in a net cash position.
It plans to add expertise in areas such as oil and gas, energy and transportation and add services such as developing asset performance, programme delivery and sustainability capability.
Youell allays the fears
Haven't others floated and run into difficulty?
"We've seen the problems that others have had and learned from their mistakes. We have to maintain the dynamism that comes from the collaborative approach of a partnership and not become singular in our thinking. I think when Mouchel listed, for example, it didn't carry all of its values and beliefs through."
Isn't this just about the bosses cashing in?
"Our profits are distributed among the 188 equity partners, based on fair performance targets. This isn't about a small bunch of guys raking in all the capital."
Won't the partnership ethos be lost?
"There is an assumption that you have big bad corporate beasts at one extreme and lovely cuddly partnerships at the other. That is rarely the case. Some big firms like Google still deliver because they maintain their values."
Won't you become an easier takeover target when listed?
"Very few buyers would be big enough and they would waste investment with a hostile takeover of a firm where the assets are the people."
Why not be bought by a big US firms instead?
Youell points to a clash of values between US and UK firms. "American firms approach a client with answers in quite a dogmatic way. In Europe the approach is to influence and collaborate with the supply chain to deliver an outcome."