Industry leaders line up to support Ecobuild campaign to redefine sustainability at House of Commons reception
Last week, Ecobuild 2017 formally launched at a House of Commons reception attended by over 100 construction industry leaders and chief executives.
During the annual reception co-hosted by Building and the All Party Group for Construction and Urban Development, Regeneration was unveiled as the focus for next year's event (07–09 March 2017). The theme will be brought to life through Ecobuild's immersive exhibition and conference programme that tackles redefining sustainability, future growth sectors and the housing crisis.
The announcement follows the launch of Ecobuild's Redefining Sustainability campaign, during which industry professionals were challenged to answer: 'what sustainability means now, and in the future?'.
To date, there has been an extraordinary and impassioned response from organisations including Saint-Gobain, BRE and the Construction Products Association (CPA). The campaign, and the opportunities to contribute to the discussion, will continue in the run up to Ecobuild 2017.
Speaking at the House of Commons reception, Martin Hurn, Brand Director at Ecobuild, said: "Ecobuild 2017 will bring together the largest collection of architects, contractors, specifiers and product manufacturers making it the perfect platform to collaborate and address the key issues of regeneration and its role in shaping the future of sustainability.
Martin continued: "Regeneration and the future of sustainability are already critical issues for the industry, yet, following the EU Referendum result, the topics will, arguably, become even more pressing as UK businesses shoulder further responsibility to advance the agenda."
Hints of what visitors can expect from Ecobuild 2017 were also revealed at the House of Commons event, including a new central feature – Regeneration Drive. This impressive full-length boulevard will include city-themed attractions, such as a stadium, city hall, university campus and an energy grid. Additionally, the exhibition will feature CPD sessions on the key themes such as the housing crisis, infrastructure and public and private sector investment.
Martin added: "Innovation and creativity – something which the UK is renowned for globally – will also be a big focus next year, with demonstrations of new products, smart technologies and future materials. We're actively looking for partners to help us develop these inspiring places and spaces, including concepts for Regeneration Drive.
From the response we've had so far, it's clear that sustainability has many nuances and meanings but it's also evident that a common definition and understanding is needed. This was a view also shared at our recent round table discussion, chaired by Julie Hirigoyen, CEO of UK-GBC, and attended by a host of senior construction leaders."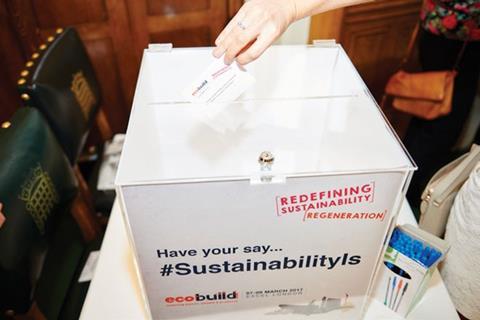 #SustainabilityIs dealing with the older housing stock and regeneration.
#SustainabilityIs creating places where people can enjoy their lives in the fullest sense, being certain in the knowledge that, in so doing, they do not inhibit the chances of successive generations from obtaining the same enjoyment.
#SustainabilityIs focus on design and construction that lasts
#SustainabilityIs a better means of production that reduces waste but encourages innovation. It focuses less on the environment but more on the effect on the individual.
#SustainabilityIs leaving a legacy for our future generations
#SustainabilityIs first & foremost our businesses. and our industry needs to be sustainable. The big issue is reducing pollution caused by trucks, reducing waste thru poor practice and taking more manufacturing off site. Products will become green naturally.
Responses taken from House of Commons reception ballot box
Join the debate.
Twitter: @ecobuild_now #ecobuild
Facebook: /ecobuildnow
Website: www.ecobuild.co.uk