Comments come after French economy minister revealed date for decision on £18bn project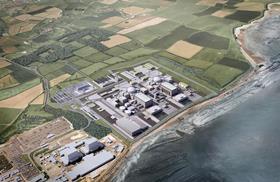 The UK chief executive of EDF has told MPs the long-awaited Hinkley Point C nuclear power plant will "clearly and categorically" go ahead.
Vincent de Rivaz, who is being grilled by a committee of MPs this morning, used his opening remarks to say: "I will start by saying clearly and categorically that Hinkley Point C will go ahead".
His comments come after France's economy minister said this week that a final investment decision on the £18bn scheme in Somerset will be made in May.
Speaking before the French parliament's Economic Affairs Committee, economy minister Emmanuel Macron revealed a decision would be taken "at the start of May" and added that it was unlikely EDF would back out of the project.
It comes after Building exclusively revealed that EDF has released the first year of its budget for Hinkley Point C and has already restarted work on the project with up to 400 workers a day working on-site.
Reuters previously reported that several sources close to EDF told it a decision was expected to be taken before EDF's shareholder meeting on 12 May but could have come at its board meeting next Wednesday.
Macron said: "The principal nuclear project in the developed world is Hinkley Point.
"Can we legitimately choose not to take part in the largest nuclear project in the developed world? For my part, I don't think so."
Referring to the movement of the date of the final investment decision, Macron told the committee: "Why the start of May?
"It must be taken before the general assembly [shareholder meeting] of EDF, and it's important that we give our British partners full visibility of this investment, which is absolutely critical for them… also before the deadlines which are important for them."
He added: "So we need to make the most of the coming weeks but there is no urgency to decide by the end of the month, because we need to work on a number of measures which are over and above Hinkley Point."