North London council scraps 'master developer' plan for regeneration project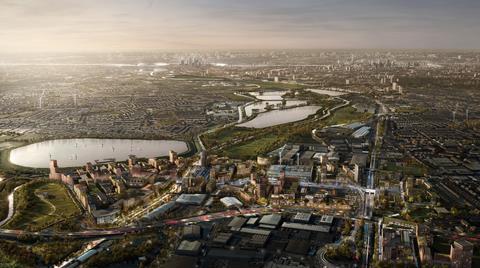 Enfield Council is looking for a developer partner to help it build nearly 1,000 new homes in the first phase of the Meridian Water scheme in north London.
The council said it decided to scrap plans for a 'master developer' for the £6bn 210-acre scheme (pictured), which eventually will see construction of around 10,000 new homes, in favour of the council taking the lead on the project's delivery.
Three sites are being brought forward and Enfield said it would select a partner to work on the project as part of a development agreement, rather than a sale of land.
The borough's mayor Nesil Caliskan said the partnership move would allow the council to retain control and prioritise sales to local people.
"We will be the custodians of the place Meridian Water will become, investing council money and resources to ensure that local people are the principle beneficiaries of the new homes and jobs that will be created," she said.
The council is also bidding for £120m of government cash through the Housing Infrastructure Fund to provide transport links to the area's new railway station which is due to open in May next year.