Mark Clare will join the board of consultant Enhabit after investing in the London-based company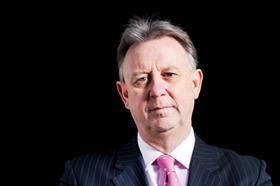 The former boss of volume housebuilder Barratt, Mark Clare, has invested in energy efficiency consultant Enhabit and joined the firm's board.
Clare (pictured), who was chief executive of Barratt until July last year, told Building he had become a non-executive director and investor in the seven-strong firm to help grow the business.
The company was relaunched this week by housing minister Brandon Lewis at the RICS headquarters in London and rebranded from Green Tomato Energy to Enhabit.
Speaking to Building, Clare said he plans to use his experience at the helm of the country's largest housebuilder to help the SME grow after being impressed by its vision.
He said: "I was approached as a potential investor and once I met the team, I was blown away by these enthusiastic young people doing the right thing.
"But they didn't have a lot of knowledge about growing a business, and that's where I come in.
"In a small business like this, the requirements are much greater in terms of advice and support [as a non-executive director] but I'm more than happy to do that to help the business grow."
Enhabit has already secured work since it was set up a year ago, providing advice and project management for contractors, architects, buy-to-let landlords and housing associations, as well as individual clients.
It has also done work with the communities department on how small businesses can improve energy efficiency in their buildings, and has signed a commercial relationship with a specialist contractor to provide energy efficiency measures.
But Clare said the London-based firm will need to grow if it is to take on more work as the consultant is "already challenged with the work it has".
The firm does not work with housebuilders at the moment, but when asked if it could help housebuilders such as Barratt with improving energy efficiency of homes, he said: "They could do. The larger ones will usually have their own suppliers.
"But certainly for the smaller housebuilders who can't access that, who want to deliver better quality homes, there is an opportunity."