Project team to design new tower on Leadenhall Street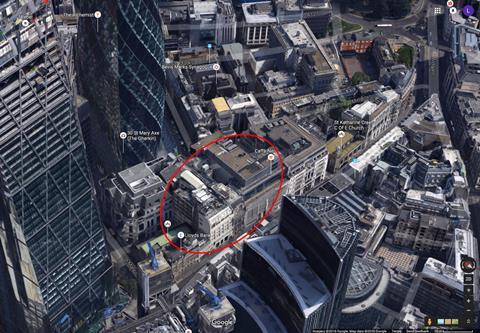 A team led by US architect SOM is designing a brand new City of London tower next to the Cheesegrater and Gherkin, Building can reveal.
SOM is joined by cost consultant Core Five on the Hong Kong-funded project, according to market sources, which will jockey for position in an ever-more-crowded Square Mile skyline.
One industry source said the tower was in the early stages of design but would be "quite tall".
It will be built between 100-112 Leadenhall Street, a row of buildings bought up in recent years by Far East investment specialist London & Oriental, acting on behalf of Hong Kong investor Lai Sun Development.
The site (pictured) backs on to the Gherkin and is also opposite TH Real Estate's planned 'Gotham City' office development, designed by Make and set to be built by Mace.
Nearby towers also include British Land's Cheesegrater, and insurer WR Berkeley's under-construction Scalpel, as well as planned skyscrapers at 1 Leadenhall, 1 Undershaft, 22 Bishopsgate and 6-8 Bishopsgate.
Lai Sun Developments, via subsidiary companies, bought 106 Leadenhall for £21.5m last December, and 100 Leadenhall and 107-122 Leadenhall for £107m and £60m respectively in 2014.
SOM's links to the City stretch back to the 1980s, with projects including Broadgate Tower and Exchange House.
Core Five has picked up a number of major projects in London since launching four years ago, including another City tower on Finsbury Avenue for British Land and Berkeley's under-construction One Blackfriars residential tower.
SOM, Core Five and London & Oriental have all been contacted for comment.