16-member design review panel will oversee legacy plans for Olympic Park and promote high quality design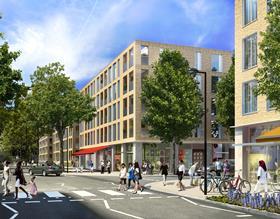 The body in charge of taking forward development on the Olympic Park after London 2012 as established a new panel of experts to review its planning work and promote high quality design.
The London Legacy Development Corporation (LLDC) said it had established a 16-member independent Quality Review Panel to test fundamental design principles of planning proposals for the Olympic Park, both at pre-application stage and as part of the application process itself.
The panel is comprised of professionals working in architecture, landscape architecture, urban design, environmental sustainability, inclusive design, civil engineering, economic viability, and development delivery.
From October the LLDC will take on planning powers for Queen Elizabeth Olympic Park and the surrounding area.
The 16 members of the Quality Review Panel will Chaired by Peter Studdert, an adviser to English Heritage and the Design Council CABE, and their first projects will include reviewing the upcoming application for Chobham Manor, along with a range of building and public realm projects within the Park and surrounding communities.
Daniel Moylan, LLDC chairman, said: "We want new developments on Queen Elizabeth Olympic Park to be of the same design standard as our world class venues.
"The Quality Review Panel will help achieve that by providing valuable independent oversight to help ensure that high-quality sustainable design is embedded in everything we do."
Peter Studdert, Quality Review Panel chairman, said: "Everyone has high aspirations for the quality of the new neighbourhoods and public facilities that will be the lasting legacy of the London Olympics, and I am looking forward to playing my part in turning these aspirations into reality."
The panel review process will be managed by an independent agency in order to safeguard the impartiality and transparency of its advice. Its composition and size will be reviewed regularly, to ensure it offers the required expertise and experience.
The full membership of the Quality Review Panel is:
Peter Studdert - Chairman
Edward Jones - Vice Chairman
Adam Khan
Alex Ely
Catherine Burd
John Lyall
Julia Barfield
Kirsten Henson
Liam Bond
Lindsey Whitelaw
Lucy Bullivant
Neil Deely
Peter Barber
Peter Lainson
Ricky Burdett
Tom Holbrook