Laing O'Rourke-led team reaches financial close on hospital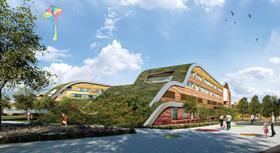 A Laing O'Rourke-led consortium has reached financial close on Alder Hey children's hospital in Liverpool.
Acorn Consortium – comprising John Laing, Laing O'Rourke and Interserve – will deliver the scheme.
The construction value of the scheme is £167m, but the total value - including demolition, reinstatement of the park as well as medical equipment, is £237m.
Acorn was announced as preferred bidder for the project last June, following approval by the Department of Health and the Treasury.
The hospital will have a floor area of 51,000m2, and will contain 270 beds and 16 operating theatres.
John Laing and Laing O'Rourke will each hold 40% of the total investment equity in the project with Interserve holding 20%.
Laing O'Rourke will build the BDP-designed hospital and Interserve will maintain the hospital infrastructure. WSP is the engineer.
Speaking on behalf of Acorn, Peter Ward, director of healthcare projects at John Laing, said: "We are delighted to have achieved Financial Close on Alder Hey in the Park and look forward to working with Alder Hey Children's NHS Foundation Trust for the next 30 years.
"This is an exciting project for all of us, not only because of the innovative nature of its funding and design but more importantly, because it will provide the very best facilities and therapeutic environment for sick children and their families across Europe."
Malcolm Davidson, project director at WSP, said: "Alder Hey hospital is going to truly iconic, it will be talked about for years to come. The design is a unique integration of engineering and architecture and was designed with its patients, children and staff, in mind every step of the way.
"It is very exciting that these designs are about to be brought into reality and we are immensely proud to have been part of, and continue to be part of this innovative, ground breaking and important project. It set a new benchmark in children's healthcare design for decades to come."