Aecom, Sweett, Ridge and BDP among the consultants and architects picked for University College London Hospitals' 10-year development framework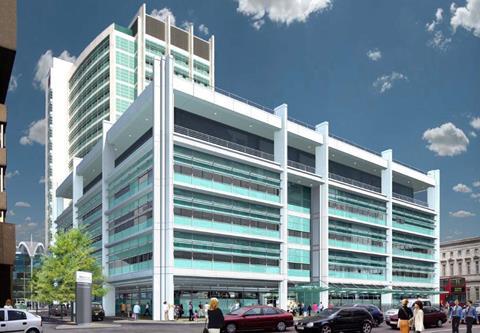 Capita, Sweett, Aecom, BDP and Ridge, are among 30 consultants and architects to have secured spots on a new £600m NHS development framework.
The firms (see list below) have been appointed to University College London Hospitals' (UCLH) second-generation framework.
The firms have been appointed across eight different lots, with Capita winning a place on four lots; Sweet Group and Aecom on three; and Turner & Townsend, Henry Riley, Ridge and Frankham Consultancy each winning places on two lots.
The UCLH NHS Foundation Trust has a decade of development work planned in London as it rationalises 55 properties across north London on to two campuses - Euston Road and Queen's Square.
Director of estates Kieran McDaid said he hoped most of the firms on the four-year "refresh and renewal" framework - which includes six architects - would have a chance to win some of that work.
It is not an exclusive framework and there will be opportunities for other firms to team up with the six winners, he said.
"It's an exciting time at UCLH and this is a fantastic opportunity for the firms that have joined us, 56% of whom are SMEs," he said.
UCLH's most recent completed project was Hopkins' award-winning £100m Macmillan Cancer Centre on Huntley Street.
It is also working with Scott Tallon Walker, Edward Williams Architects and Tsoi Kobus on a £250 million proton beam therapy centre, the first in the UK.
Steffian Bradley Architects has been appointed to work on two projects: a residential scheme and the conversion of the former Royal Ear Hospital and student union site on Huntley Street for outpatient use.
The trust's future development plans include expansion of maternity services and a reconfigured emergency department. All the work will be done using BIM.
"We have a huge aspiration to be at the forefront of the NHS," said McDaid.
UCLH second-generation framework
List of firms and lots
Academy Consulting Solutions - 4
Aecom - 2,3,4
Avanti Architects - 1
BDP - 5
Campbell Reith Hill - 6
Capita Symonds - 4, 5, 7, 8
Couch Perry Wilkes - 5
Curtins Consulting - 6
Devereux Architects - 1
EC Harris - 8
Frankham Consultancy Group - 3, 6
Gardiner & Theobald - 2
Henry Riley - 2, 4
Hulley and Kirkwood Consulting Engineers - 5
IBI Nightingale - 1
Jenkins & Potter - 6
Levitt Bernstein Associates - 1
Mace - 4
Medical Architecture and Art Projects - 1
Mortimer Isaacs Consultancy - 2
Ove Arup & Partners International - 5
Ridge and Partners - 2, 7
Roughton International - 6
RPS Planning & Development - 5
Scott Tallon Walker Architects - 1
Sir Frederick Snow & Partners - 6
Sweett Group - 2,3,8
The Fulker Consultancy - 7
Turner & Townsend - 3, 4
Watts Group - 7