Changing working habits could see greater opportunities in the regions, according to Glenigan forecast
Firms specialising in London office schemes should refocus their business towards refurbishments and commercial projects outside of the capital because of changing working habits, an economist has warned.
Allan Wilen, economics director at information provider Glenigan, told Building that being London centric "may not be the best way forward" because of remote working.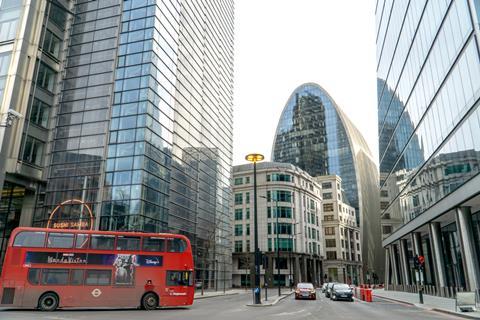 He said that clients may prefer to have smaller office units scattered across the UK rather than concentrated in London if home working persists beyond the end of pandemic restrictions.
Occupiers will also gear themselves more on repurposing existing office space in the capital rather than new builds, according to Wilen.
He said: "The overall supply of office accommodation in the capital is going to be plentiful, shall we say, so I think that's going to have an impact on new office development activity.
"If you've got a more flexible office space, firms might wish to have smaller units scattered across the UK so they're exposing themselves to potentially a larger workforce pool."
Wilen, who said that Glenigan is looking at downsizing its office space within the next year, added that uncertainty in the future of office requirements could have a dampening effect on new commercial work in the months ahead.
"There's going to be a bit of caution in terms of new office developments, because developers are not sure how much demand there is going to be there, whether it's going to be back to original plans pre-covid or whether it's going to be something different."
The warning came as Glenigan forecast that the construction industry in London and the South-east would see a slower recovery than other UK regions.
Wilen said the imbalance would be partly the result of the government's focus in terms of funding under its levelling-up agenda and a wider shift in the economy.
But the forecast also predicted that construction output across the UK would return to pre-covid levels by 2022, with project starts valued at £100m 3% above 2019 levels.
The analysis found that the value of project starts during the three months to May 2021 rose by 20% and is expected to undergo a "progressive strengthening" over the next two years.
The education and health sectors are expected to see the strongest growth, with starts in both sectors forecast to rise by 14% in 2022.
Civil engineering projects are expected to rise by 21% this year before falling by 4% next year and rising again by 7% in 2023.
For housing, the staggered end of the stamp duty holiday, alongside an anticipated jump in unemployment after the furlough scheme ends in September, is expected to temper new activity after a 70% rise in activity in the first five months of this year compared to 2020. Next year, housing starts are expected to rise by 11% and 4% in 2023.
Meanwhile, office project starts are expected to fall by 3% in 2022 before edging up 1% in 2023.
While Wilen said that there are "definitely reasons to be cheerful", he warned the industry is now entering a "disruptive era".
He added: "Contractors will need to be agile in a post-covid landscape, evolving with emerging opportunities, for example, an increasing number of retrofit projects over new build in the commercial sector.
"They will also need to mitigate a number of external risks, reinforce supply chains, as well as adapting to the changing regulatory framework and digital transformation.
"Indicators suggest we're now entering a disruptive era in construction but, equally, an exciting one."
He said material shortages pose the "most immediate" threat to the recovery but labour shortages could become a "break on the pace of growth" if firms do not invest in training and recruitment over the coming years.