Architect took over from Wilkinson Eyre on the 18 Blackfriars Road scheme last year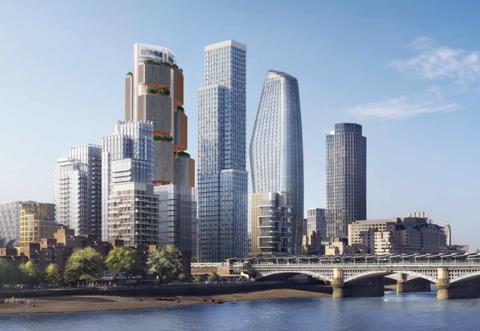 Fresh plans have been revealed for an office and residential scheme on London's South Bank, nearly a year after Foster + Partners replaced Wilkinson Eyre on the development.
The long-vacant 18 Blackfriars Road site, which lies at the southern end of Blackfriars Bridge, was purchased by US developers Hines and the National Pension Service of Korea in October 2021.
The consortium inherited a consented proposal for a Wilkinson Eyre-designed scheme dominated by two towers – a 53-storey residential tower and an office tower of 34 storeys – but opted to replace the architects, appointing Fosters to develop new plans.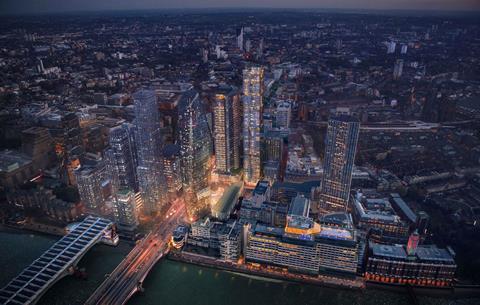 The revised proposals, which have now gone out to public consultation, are comprised of three brick-clad towers clustered round a central plaza which connects to the Christ Church Garden.
The tallest of the towers, which all feature green terraces and roofs, will be a 210m office building, followed by the 160m Stamford Building, a residential block, and a third high-rise, the Paris Building, which will contain affordable housing and be no taller than 100m.
The site has been vacant since 2016, when several buildings including Owen Williams' Sainsbury's sausage factory, England's first structure built from poured-in-place concrete, were demolished.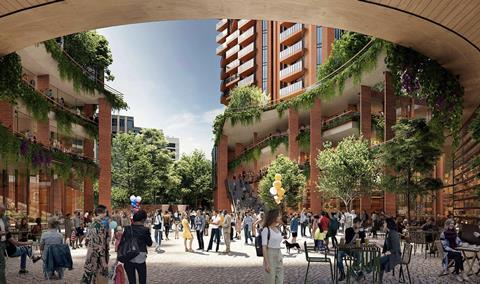 The new proposals will be submitted to Southwark Council before the end of the year, with the developer hoping to begin construction as early as next summer.
Ross Blair, Hines UK's senior managing director, has previously speculated that the development could be worth £1bn when completed.
Lipton Rogers is serving as a project consultant on the scheme, with Arup also advising.