Firm says sticking to social distancing protocols on job was not possible
Galliard Homes has suspended work to replace ACM cladding at its New Capital Quay development in Greenwich because of coronavirus.
The government has labelled the replacement of Grenfell Tower-style cladding as a critical project and last week appointed Faithful + Gould to help manage the impact of covid-19 on remediation projects.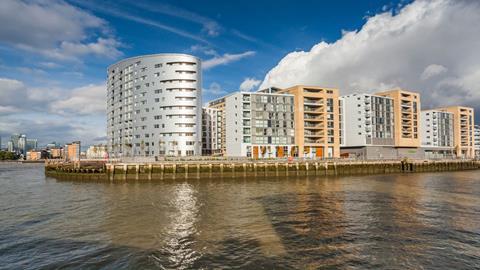 But Galliard has taken the decision to close construction sites, including the re-cladding project underway at New Capital Quay in Greenwich.
The firm said: "With 160-plus operatives on the project, stopping works took those personnel off the public transport network.
"Providing operatives with proper welfare arrangements and keeping to the social distancing guidance is [also] not possible."
>> Government still pushing for main HS2 civils work to start this month
Galliard said part of the reason it needed to suspend works was that it chose to avoid using scaffolding during the work – so residents' views of the nearby river Thames and daylight were not blocked.
It said: "The alternative is a slower more expensive method, it is based on using mobile elevators, mast climbers and other powered access equipment.
"This does mean that small teams must work together on these platforms, [so] appropriate distancing is not possible."
Galliard also said most of the New Capital Quay residents were now working from home meaning the daytime occupancy of New Capital Quay, which has nearly 1,000 homes across 11 blocks, had rocketed from around 150 people to almost 2,500.
Galliard said: "The normal noise generated by machines and operations going about the re-cladding works would be very inconvenient for those residents temporarily working from home."
Galliard said as soon as the guidance from Public Health England changes then the works will re-start.
Insurers National House Building Council have agreed to pay for the work which is expected to cost £40m.