Airport launches £75m design and planning frameworks for new runway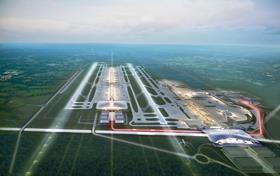 Gatwick has launched three new design and planning frameworks worth £75m as it calls on consultants to help it prepare for a new runway.
The airport is seeking expressions of interest for the frameworks, with winning bidders automatically eligible for a £200m design framework if the government chooses a second runway at Gatwick.
The three frameworks are airport planning services; architectural, structural and building services design and engineering for projects less than £5m; and multi-discipline design and engineering for projects greater than £5m.
The airport planning services framework incorporates key infrastructure planning associated with the second runway, and is estimated between £3-5m. It will include architectural and engineering services, urban planning, landscape engineering, technical consulting and analysis.
The two design frameworks are for both lower complexity design work for projects up to £5m and higher complexity design work for projects above £5m, and include architectural, civil and structural engineering, and mechanical and electrical design services.
Gatwick's development director Raymond Melee said: "The publication of three new frameworks sends a clear message to the industry that Gatwick has a pipeline of major construction work that will satisfy all types of construction industry partners."
He added: "With frameworks spanning a five year time-frame, it's important that potential partners in the runway build are included in these frameworks so that we can keep the process moving forward."