Architects' designs include 1,300 homes, 350,000ft2 of retail, restaurants and a hotel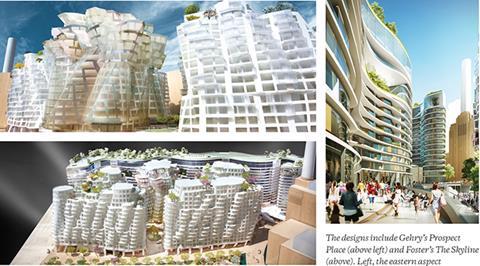 Architects Frank Gehry and Foster & Partners this week unveiled their designs for flats and a pedestrianised retail high street that will form the third phase of the £8bn redevelopment of the Battersea Power Station site.
Foster and Gehry's scheme, which sits next to the power station, comprises 1,300 homes, including 103 affordable, as well as a 160-room hotel and 350,000ft2 of retail and restaurant space.
Gehry Partners has designed the five buildings to the east of a new high street, to be called Electric Boulevard, which will house retail units at street level, residential units, and a multi-use community hub.
The Gehry scheme, the architect's first permanent London project, is called Prospect Place and includes the distinctive "Flower" building (pictured top far left).
Foster + Partners has designed the building to the west of Electric Boulevard, to be known as The Skyline, which undulates along the line of the boulevard and will include residential units as well as a medical centre and the hotel.
The top of the building is given over to one of London's largest roof gardens, at more than 250m long.
Rafael Viñoly's wider masterplan for the 16 ha riverside site comprises 3,700 homes, 150,000m2 of offices and 45,000m2 of retail.
Speaking at the launch of the designs this week, Frank Gehry said he had rejected Viñoly's proposal for a London crescent at the heart of the redevelopment in order to bring a more human scale to the scheme.
He said: "We wanted to create a special place and we thought it was important to break down the scale for our part so that there are five buildings instead of just two.
"On the Electric Boulevard, the commercial street, we're making a variety of spaces. It's not just a straight line: we are making spaces between the buildings.
"The scale will be humanised and the interior garden for our section will be quite unique."
The £400m first phase of the scheme, designed by architects Ian Simpson and dRMM, is already under way, after Carillion was appointed main contractor last year.
Work on the £100m restoration and repair of the power station itself is also under way, with Mace acting as construction manager.
Last month, developer the Battersea Power Station Development Company appointed a project team to the £600m second phase, including architect Wilkinson Eyre, cost consultant Gardiner & Theobald, structural engineer Buro Happold. The power station itself will be transformed into a shopping, office, and events complex as well as high-end flats.
The developer is expected to go out to market this year for a contractor for the second phase.