Jon Dedman tasked with growing the Gleeds building services team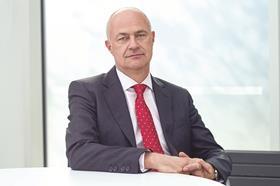 Gleeds has recruited Jon Dedman from Aecom as its new director of cost management in London.
At Aecom, Dedman (pictured) was head of London for the firm's programme, cost and consultancy business. Dedman has 35 years of experience in the industry, and specialises in engineering services, particularly in the commercial, mixed-use development and occupier fit-out sectors.
He has been tasked with growing the Gleeds building services team, with a focus on feasibility studies, cost planning, procurement and value engineering.
As director of cost management for Gleeds in the capital, he will be responsible for several high profile schemes, including Generali's £420m 10 Fenchurch Avenue project, a 15-storey office development where Sir Robert McAlpine is main contractor.
Dedman will also work on the 21 Moorfields scheme, where Land Securities is planning 500,000ft2 of office and retail space.
At Aecom, Dedman worked across the commercial, residential, retail, public administration, health and education sectors in his London role.
He was previously managing director of Aecom's energy business, a post he held until 2011. He filled a similar position at Davis Langdon from 2008 up until its acquisition by Aecom.
From 2003 to 2008 he was Davis Langdon's head of engineering services.
A spokesperson for Gleeds said: "Jon has experience across a wide variety of sectors. His working style is collaborative and he focuses on providing solutions that add value to the brief and objectives set by the client.
"He has been brought in to grow the M&E service provision for Gleeds and will be responsible for the supervision and technical management of all aspects of the engineering service offer."
An Aecom spokesperson said: "Jon Dedman has left Aecom to pursue other opportunities, we wish him well.
"The PCC business in London is being led by a number of our directors in our business across key markets, including leading experts such as John Lewis, David Thornley, Jo Streeten, Paul Mannion and Laurence Brett."