Education secretary who has long downplayed the importance of school design laments lack of beauty in built environment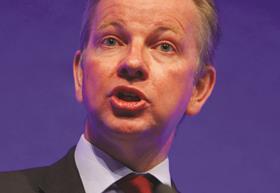 Michael Gove, who has long downplayed the importance of school design, overseen ever-tightening school construction budgets as well as the development of controversial standardised school designs, has lamented the lack of "beauty" in the built environment.
In a speech at an event hosted by think tank the Centre for Policy Studies on Sunday (19 may), the education secretary backed the government's efforts to loosen the planning system to encourage development, but stressed that buildings must "lift up the soul".
He said: "I believe that we cannot think of our built environment without thinking of beauty."
"When we think of new building we should not think only of losing some undeveloped land, we should also think of the potential to create something of grace and beauty, to ravish the eye and lift up the soul.
"That too few modern buildings can aspire to real beauty is a challenge to the architectural profession."
Gove has consistently downplayed the importance of school building design, insisting it has little impact on the performance of teachers or pupils and overseen ever-constrained school construction budgets.
Gove also oversaw the development of controversial standardised school designs, unveiled last October, in a bid to drive down the cost of school construction programmes, which were slammed by the RIBA, which warned the proposals were short-sighted and restrictive and risk designing in bad-behaviour on the part of pupils as well as neglecting the needs of the disabled.
RIBA said the approach to delivering the next generation of schools was likely to create buildings that quickly became redundant, while reduced space for communal areas was likely to increase discipline problems - including bullying, countering current best practice in design.
Last year, Building revealed the results of an analysis of educational attainment in schools built under the Building Schools for the Future Programme, which found that "significant improvements" in attainment and attendance were made in around two-thirds of the schools studied.
The study, which had not been published, had been buried because it was "politically inconvenient", a source close to the DfE said at the time.