Delays to the roll out of the Green Deal and a lack of a planned transition led to the administration of Enact Energy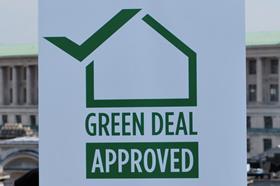 The government's delay to the roll out of its flagship energy efficiency programme has been blamed for the demise of pioneering Green Deal provider Enact Energy, which fell into administration last week.
Sources close to the Cornish firm said it had been impossible for Enact to continue after the launch of the Green Deal was pushed back from October 2012 to January 2013, with subsequent demand slow to pick-up.
Enact Energy was placed in the hands of administrators Begbies Traynor last week, with 29 staff made redundant.
The firm had been one of 22 companies to sign a deal with the government to be the first providers of its flagship scheme in April 2012. The list also included contracting giants such as Carillion, Keepmoat and Willmott Dixon.
But Building understands Enact was hit hard by the wind down of government insulation schemes the Carbon Emissions Reduction Target (CERT) and the Community Energy Savings Scheme (CESP) over the last quarter of 2012, when work from the replacement schemes - the Green Deal and the Energy Company Obligation (ECO) - had yet to come online.
Last week Building revealed that installations of cavity wall insulation have collapsed under the Green Deal, falling a staggering 97% in April compared with last year, with a lack of a planned transition between CERT and CESP and the Green Deal as well as a lack of incentives for Green Deal take up blamed.
Industry bodies and insulation firms have consistently warned government that delays to the Green Deal, the absence of a planned transition between schemes and a lack incentives to take up would lead to job losses and insolvencies.
In April, energy secretary Ed Davey met with Enact Energy on a trip to the south-west, with the firm's management expressing concern about the gap in work following the end of CERT and CESP and the roll-out of the Green Deal and ECO.
A source close to Enact said it had "exhausted every possibility to find external investors" over the last 18 months to support the transition to the new energy efficiency schemes, but had been unsuccessful.
They also said that while the company had been conducting Green Deal assessments since January, very few of these had yielded actual energy improvement work.
According to Department of Energy and Climate Change figures, there have been nearly 19,000 Green Deal assessments since January, but the department has yet to provide figures on how many of those assessments have been converted into Green Deal plans. It has said it will do so on 27 June.
Enact had been in business since 1996 and had a client list which included over 100 local authorities, as well as retailers Tesco and Marks and Spencer.
Brian Berry, chief executive of the Federation of Master Builders, said many firms had invested "time and money" in gearing up for the Green Deal last year, but the start had been "slow and staggered".
"I think there's a lot of nervousness about putting a lot more time and investment into the Green Deal because we haven't seen the return we would have expected," he said.
Jon Alker, director of policy at the UK Green Building Council, added: "Everyone would like there to be a much more certain market for Green Deal providers - which is why we have been campaigning so strongly for additional financial incentives for consumers to take it up."
A DECC spokesman said the government was still trying to establish the "precise reasons" for Enact's demise.
"Any link between Enact's situation and recent reports about cavity wall installations is entirely speculative at this stage," he added.
"We understand that Enact Energy had not finalised any Green Deal plans."