Energy minister announces consultation on plan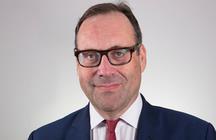 Energy minister Richard Harrington has said the government is looking for new sites to build nuclear power stations.
Harrington (pictured) told a conference on the nuclear power industry in central London: "We are launching a consultation on sites for large-scale new nuclear plants. The initial consultation sets out the proposed siting process and assessment criteria for sites that are potentially suitable for nuclear power stations."
And he said the government would begin a consultation in the first weeks of the new year to find a site to get rid of nuclear waste.
He added: "We recognise the need to implement a responsible long-term solution to for the disposal of higher activity regulated waste. That's why early in the New Year we will be holding two consultations as part of the process to site a geological disposal facility."
Harrington said the scheme at Hinkley Point in Somerset said the £20bn project had been worth sticking with and that it was boon for both the construction industry and wider economy.
He told the Nuclear 2017 conference: "On our current estimates Hinkley construction site will support up to 1000 jobs with another 1000 in the supply chain," he said.
"When it's ready the station will support 600 jobs a year for more than a century while delivering significant investment and innovation to the overall community."
Last month, the Public Accounts Committee slammed Hinkley Point C, saying the government had failed to both show how the £20bn project would provide wider benefits to the UK and to champion the consumer interest.