Ben Houchen slams officials for 'playing it safe' in last month's heat and buildings strategy
The government's decision to support heat pumps over hydrogen in last month's heat and buildings strategy was a mistake, the Conservative mayor for Teesside has said.
Ben Houchen told Building that officials had "fundamentally got it wrong" by believing that it is not possible to safely pump hydrogen through the existing gas network.
He said that trials being carried out in Teesside are proving this untrue but that the government was instead "playing it safe".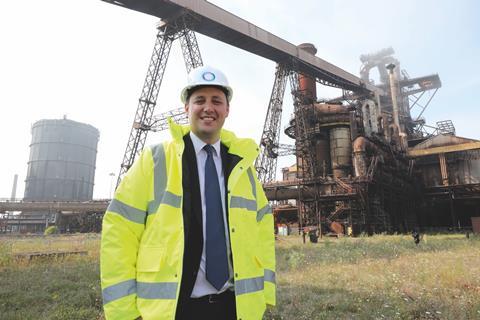 The strategy set out how the UK's 30 million buildings will be decarbonised as part of the government's goal to reach net zero emissions by 2050.
It provided £5,000 grants for homeowners to install electric heat pumps but deferred any decision on what role hydrogen will play until 2026 while tests are carried out to determine whether it can be safely used in gas boilers.
Asked if he was disappointed with the document, Houchen said: "The short answer is yes."
> Also read: Meet Ben Houchen: the man putting the power back into Teesside
> Also read: Dormon Long tower listing was a 'farce', Teesside mayor says
The 34-year old mayor, who was re-elected with 73% of the vote in May's local elections and is considered a rising star in the Tory party, is credited with driving a huge expansion of net zero industry in the North-east of England.
He blamed officials for not being "open" to alternatives technologies for the strategy's focus on heat pumps, saying: "My view is that too many civil servants six or seven years ago decided to go all-in on electric.
"And what you've actually found over the last five or six years is, it feels to me, like there's a reinforcement of that decision on every piece of work that happens."
Houchen said that the government's caution on hydrogen, which he argued would be a much cheaper solution to decarbonising buildings than heat pumps, risks "stymying" investment in production of the gas.
He also said the ban on gas boilers in newbuild homes from 2025 was "wrong" because hydrogen could be used in upgraded boilers costing only £100 more than a traditional boiler.
Air source heat pumps, which absorb heat from the air, currently cost around £10,000, while ground source heat pumps, which absorb heat from underground, can cost up to £35,000.
Houchen said he "frequently" speaks about hydrogen to business secretary Kwasi Kwarteng, who the mayor said is a "big believer in the gas".
But according to Houchen, the minister told him that "all I can do is act on the advice and the evidence that my officials are giving me" when asked why the government was not being more supportive of hydrogen.
Teesside currently makes more than half of the UK's supplies of hydrogen. Last month, green energy firm Protium confirmed plans to build a 40mw hydrogen production facility in the region, with construction set to complete by 2026.
In March, BP announced plans to build a 1gw hydrogen plant, which would be the UK's largest, in Teesside by 2030.