Three month recruitment drive begins to fill around 500 posts at railway
HS2 has begun recruiting for hundreds of jobs as major construction work on the £100bn railway edges closer.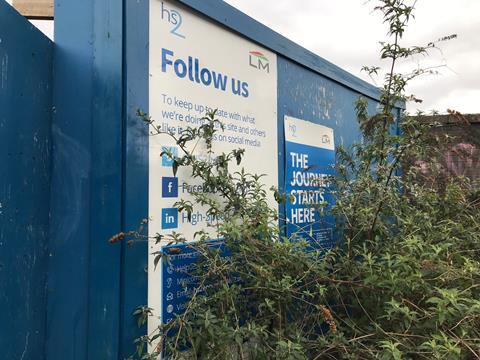 Around 500 jobs will be up for grabs over the coming months with the news coming as the government prepares to announce detailed plans of how it hopes the construction industry will lead the country of a covid-19 recession.
Roles that need to be filled include engineering and project management posts as well as land and property, procurement and commercial positions.
More than 300 of the new recruits will be based in Birmingham and will push the total number of jobs the project has created to more than 10,000 once recruited.
Boris Johnson will today unveil more details on the taskforce designed to fast track major building projects across the country to help the UK's post-covid recovery.
The Infrastructure Delivery Task Force, known as Project Speed, will accelerate the building of schools, hospitals, roads and railways and will be chaired by chancellor Rishi Sunak.
Yesterday, the prime minister told a radio station that it was time for a "Rooseveltian approach to the UK" – a reference to former US president Franklin Roosevelt's public works programme in the 1930s under his New Deal policy.
"[Covid-19] has been a disaster, let's not mince our words, this has been an absolute nightmare for the country," he told Times Radio. "The country has gone through a profound shock. But in those moments you have the opportunity to change and to do things better. We really want to build back better, to do things differently, to invest in infrastructure, transport, broadband – you name it."
Announcing the jobs boost, HS2 minister Andrew Stephenson said: "We continue to work with the transport and construction industry to accelerate projects, where safely possible, to kickstart our economy, provide more employment opportunities and drive our recovery as we build out of covid-19."
Major construction of HS2's first phase, between Birmingham and London, is now just weeks away, with HS2 saying it needs to bolster its workforce so it can press ahead with the project.
Applicants who may not have traditionally considered a career in the construction and rail engineering sectors are being encouraged to sign up to HS2's talent pool for a skills match assessment.
Where there is a skills match, which takes account of essential and transferrable skills, applicants will be invited to apply for roles.
HS2 said it is looking to support young people and those whose backgrounds have been disproportionally affected from the impact of covid-19.
HS2 departments recruiting:
Safety and assurance
Infrastructure
Stations
Procurement and commercial
Project controls
Project management
Business support
Land and property
Human resources
Finance
Facilities
Corporate sponsorship
Community engagement
Commercial development
Client service