Housing secretary says aiming for one target risks "making an enemy of the common good"
Michael Gove has said the government is not bound by its 300,000-home target alone, in the clearest indication yet the Conservative Party's manifesto pledge has been dropped.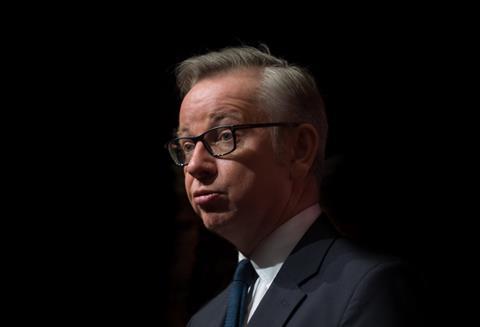 The housing secretary, appearing on Today on Radio 4 this morning, said: "It's no kind of success simply to hit a target if the homes that are built are shoddy, in the wrong place, don't have the infrastructure required, and are not contributing to beautiful communities."
He said the government is "not bound by one criterion alone" on development, adding that while arithmetic is important, "so is beauty and belonging to a democracy." He said aiming for one target "risks making someone's perfect arithmetic the enemy of the common good."
Gove was speaking ahead of an expected publication of the Levelling Up and Regeneration Bill, which will contain the government's long-awaited planning reforms, later today.
The Conservative Party's 2019 manifesto pledged to "continue progress towards our target of 300,000 homes year by the mid-2020s". According to ONS figures, 216,000 homes were delivered in 2020/21.
Gove said he believed the planning reforms will see more homes delivered, however a briefing a document published yesterday did not mention this, saying the purpose of the planning changes was to "give communities a louder voice, making sure developments are beautiful, green and accompanied by new infrastructure and affordable housing".
The bill (see details below) will include plans to give residents a say on development, by allowing them to vote on local design codes through 'street votes'.
The bill will also replace Section 106 with a new locally set, non-negotiable levy to deliver housing and infrastructure. It contains measures aimed at simplifying local plans and introduces a new approach to environmental assessments in the planning system.
At-a-glance: Levelling Up and Regeneration Bill
lay the foundations" for all of England to have the opportunity to benefit from a devolution deal by 2030.
introduce a new approach to environmental assessment in the planning system.
replace Section 106 with a new locally set, non-negotiable levy to deliver housing and infrastructure.
simplify and standardise the process for local plans so that they are "produced more quickly and are easier for communities to influence".
place a duty on the government to set Levelling Up missions and produce an annual report updating the country on delivery of these missions.
create a new model of combined authority: the 'County Deal' which will provide local leaders with powers to enhance local accountability, join up services and provide transparent decision making to rejuvenate their communities, increase their ability to reflect local preferences in arrangements including directly elected leaders' titles.
grant new powers for local authorities to bring empty premises back into use and instigate rental auctions of vacant commercial properties in town centres and on high streets.
give residents more of a say over changing street names.
strengthen neighbourhood planning and digitise the system to make local plans easier to find, understand and engage with; by making it easier for local authorities to get local plans in place, we will limit speculative development. Territorial extent and application.