Reforms included as part of levelling up agenda but no space in Queen's Speech for stand-alone Planning Bill
The government's Levelling Up and Regeneration Bill will include reforms of the way environmental assessments are required in the planning system, alongside a series of other widely trailed planning changes.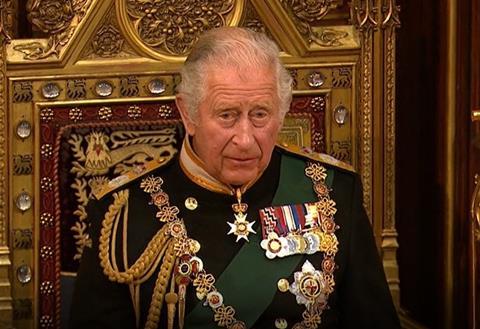 The government used this morning's Queen's Speech, delivered for the first time by Prince Charles, to set out plans for the bill, which Prince Charles said will "give residents more involvement in local development".
The government's planning reforms, which form just part of the wider Levelling Up and Regeneration Bill, have been significantly scaled back since publication of the Planning White Paper in August 2020.
The speech is confirmation that proposals for a stand-alone Planning Bill, contained in last year's Queen's Speech, have been dropped. The decision follows a huge backlash from Conservative backbenchers over the original reform programme.
In a briefing document published by Downing Street shortly after the speech was delivered, the government said the Bill will include a "new approach" to environmental assessments, introduce a "locally-set non-negotiable levy" to deliver local infrastructure, and simplify the process for creating local plans.
It said the bill will also strengthen neighbourhood planning and digitalise the system, in order that "by making it easier for local authorities to get local plans in place, we will limit speculative development".
However, the document contained no reference at all to the original white paper plans to create "growth areas" in every local authority in which developers will benefit from automatic outline planning permission, or set mandatory local housing targets from Whitehall.
The briefing also contained no reference to the government's manifesto pledge to deliver 300,000 homes a year by the middle of the decade, which had been a central motivation for the white paper. The briefing document said the purpose of the planning reforms was instead to "improve the planning system to give communities a louder voice, making sure developments are beautiful, green and accompanied by new infrastructure and affordable housing".
Developers will likely welcome the government's commitment to reform the Environmental Impact Assessment process which large planning applications have to undergo, which many see as unnecessarily burdensome. However, the briefing document said the ambition behind the reform was to ensure "the environment is further prioritised in planning decisions".
The 2020 white paper had proposed the creation of stripped-back local plans, with much of the planning policy set centrally in Whitehall, and a 30-month limit set on their creation. Today's briefing said the bill will change the system by "simplifying and standardising the process for local plans so that they are produced more quickly and are easier for communities to influence".
The document said its "levelling up" reforms will allow all parts of England to benefit from a devolution deal by 2030, with a new "County Deal" model for areas outside of cities. It will also give new powers to local authorities to bring empty premises back into use and instigate rental auctions of vacant commercial properties in town centres.
Other bills proposed today include a Social Housing Regulation Bill, designed to "increase social housing tenants' rights to better homes and enhance their ability to hold their landlords to account", as well as a Renters' Reform Bill, which will abolish so-called "no-fault" evictions, at the same time as strengthening landlords' rights of possession for other reasons.