UK's second toll motorway proposed for M4 as part of wider national road building plan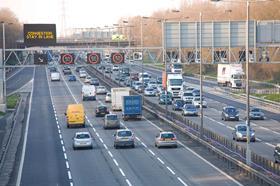 The government is planning the country's second toll motorway, according to reports.
Chancellor George Osborne has agreed to underwrite the £1bn project - the revival of a decade-old plan to ease congestion on the M4 in South Wales – amid a renewed effort to kickstart the economy also involving capital spending, the Times reported today.
Civil servants are also understood to be looking at major upgrades to other roads including the A1 north of Newcastle, linking Scotland with London by dual carriageway for the first time, the A47 running through the Norfolk Broads and the A303 in South West England.
The M4 road widening in Wales would be funded through a toll operated by the devolved Welsh government with construction loans guaranteed by the UK Treasury while the other three solely English projects are likely to benefit from the extra £3bn for infrastructure spending announced in the Budget.
A government source told the newspaper: "This kind of big investment project shows that we're serious about spending on infrastructure and helping the whole country."
The plans follow reports of a row within the coalition over whether to take advantage of low interest rates to boost capital spending in certain areas such as infrastructure.
In a victory for figures such as business secretary Vince Cable, prime minister David Cameron has agreed to inject money into roads, bypasses and high speed rail as long as the government sticks to its overall deficit-reduction programme.
The plans are expected to be formally announced during the Chancellor's spending review in June.