UK aims to launch £200m Sharia-compliant bond next year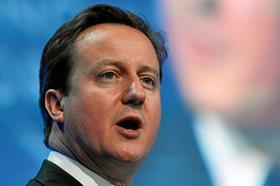 The government has announced plans for the UK to become the first country outside of the Islamic world to issue an Islamic bond, in the hope of attracting investment for UK infrastructure projects.
Prime minister David Cameron unveiled plans to launch a £200m Sharia-compliant 'sukuk' at the World Islamic Economic Forum in London yesterday.
Islam has a prohibition on interest, so sukuk bonds entitle investors to a share in the returns generated by an underlying asset, such as a property or construction development.
The government hopes the initial £200m sukuk – which could be launched as early as next year – will prompt UK firms to follow suit and issue further sukuks, potentially stimulating the UK's construction and infrastructure sectors.
The Sharia-compliant finance industry is worth $1 trillion (£620bn) globally.
Hamid Yunis, head of Taylor Wessing's Global Islamic Finance practice, said the announcement was "a strong statement of intent" by the UK government.
He said property and construction were likely to be the main beneficiaries of the product, as sukuk investors "need to know what they're funding and the best asset is construction and development".
Yunis, who was one of the people consulted on the government's plans, said he hoped there would now be a "conveyor belt of sukuk projects, like with PPP and PFI".
He added there were several "ready to go" Sharia-compliant financial structures in the Islamic world tailored to supporting construction and infrastructure projects that could be imported to the UK.
These include 'istisna', a construction financing product whereby developments are funded as each phase, such as a floor of a building, is completed, and 'igarah', a lease-back mechanism.
Sukuks can only be used to fund developments that are sharia-compliant, so projects like casinos wouldn't be allowed.