Ministers formally launch wide-ranging review of building regulations and housing standards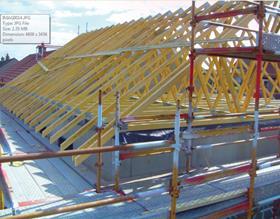 The government has launched a review of building regulations and housing standards in a bid to simplify the rules imposed on developers and housebuilders to make them easier to understand and follow.
Communities minister Don Foster launched the initiative today, after it had been trailed in the newspapers last weekend.
Foster said a new Independent Challenge Panel would be set up to consider how various building regulations and housing standards worked together and what potential there was to free up the system and make it work more efficiently.
He said the panel would bring independent experts together with government and it will report to ministers in spring. The panel will comprise: Andy Von Bradsky (architect); David Clements (building control); Paul Watson (planner); and Kirk Archibald (developer).
Foster said essential safety and accessibility protections would remain untouched and that homes would always need to be built to high sustainability and quality standards.
He said a separate group would work alongside the Independent Challenge Panel to consider the specific issue of standards applied to housebuilding.
This review is to be conducted by a group of industry representatives (see detail below), will look to avoid overlap and duplication in the system, helping ensure builders meet the high standards that aspiring homeowners rightly expect, Foster said.
Foster said the hundreds of different standards resulted in confusion for local people and developers.
The Department for Communities and Local Government (DCLG) confirmed the review would also look at environmental standards, such as the Code for Sustainable Homes.
Foster said: "The current array of different housing standards used in different parts the country is complex and counter-productive: confusing local residents, councillors and developers.
"This is why an urgent review has now started, bringing the government together with housebuilders, planners, councils and architects to establish what the unnecessary measures are that we can cut out of the system, whilst ensuring buildings are still made to exacting standards.
"I want to see a simpler set of housing standards that people can easily understand and that free up developers and councils to get on with the job of building the high quality new homes we so badly to get more first time buyers and families onto the housing ladder."
The Department for Communities and Local Government said the review would lead to a clear plan of action by next spring that will be put out to consultation.
The Terms of Reference for the review are available here.
The Housing Standards Review:
DCLG is chairing and leading the housing standards review and has convened a group of members from representative industry bodies, comprising:
Homes and Communities Agency
House Builders Association
National House Builders Council
National Housing Federation
Habinteg Housing Association
Local Government Association
Planning Officers Society
Home Builders Federation
Construction Products Association
Building Control Alliance
Association of Chief Police Officers
UKGBC
Building Research Establishment
Royal Institute for British Architects
Building Regulations Advisory Council
Greater London Authority
Some of the housing standards that the review will consider include the Code for Sustainable Homes, Secured by Design, Lifetime Homes, Standards and Quality in Development and the Homes and Communities Agency's Housing Quality Indicators.