Developer of scheme calls review "watershed moment" for British energy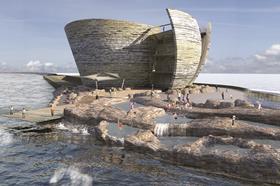 A government-commissioned review into tidal lagoons has backed the £1.3bn Swansea Bay scheme.
The review, led by the well-respected former energy minister Charles Hendry, said supporting the Swansea Bay tidal lagoon – seen as a pathfinder for much larger lagoons to be built in future – should be seen as a "no regrets" policy by government.
Reacting to the review, Swansea Bay developer Tidal Lagoon Power (TLP) said the Hendry review was a "watershed moment" for "British energy, British manufacturing, British productivity and our coastal communities".
Despite the support from the Hendry review, TLP still needs to agree a strike price with the government and get a marine license from regulator Natural Resources Wales before the highly-delayed Swansea Bay project can go ahead.
Published today by the government, Hendry's review has made 30 conclusions, including:
Tidal lagoons would contribute "positively" to the UK's decarbonisation goals
In the case of Swansea Bay, it is "beyond question" that building the tidal lagoon would provide economic regeneration to the local area
The tidal lagoon pipeline would save jobs in the UK steel industry
Innovations and technological advancements would bring down costs for other tidal lagoons
The potential impact on consumer bills of large scale tidal lagoons "appears attractive, particularly when compared to nuclear projects over a long time period"
A full response to the Hendry review from the government is expected before the Budget in March.
Commenting on the report, business secretary Greg Clark said the issues around tidal lagoons are "particularly complex" as they relate to "untried technology" in the marine environment.
He added: "The government's energy planning is focused on ensuring affordable, secure, low-carbon energy.
"We will now consider recommendations and determine what decision is in the best interests of the UK energy in the long term."
TLP chief executive Mark Shorrock said there is now "peak consensus" for going ahead with the Swansea Bay scheme following the publication of the Hendry review.
He added: "Home-grown power from the tides, starting at Swansea Bay, is something we can all agree on: communities and investors, conservationists and industrialists, politicians of all persuasions and now an independent government review, all singing from the same hymn sheet."
Initial reaction from the industry has been positive towards the review.
Atkins infrastructure managing director, Mike McNicholas, said the review is a "huge step towards unlocking the potential" of tidal lagoons.
He added: "The concepts the lagoons use are highly replicable and scalable, which means that not only can they be built larger without significant redesign costs, but the larger lagoons can deliver more electricity.
"As the pioneers of the first man-made, energy generating lagoons, the UK has the chance to establish itself as a global leader."
CECA head of external affairs Marie-Claude Hemming said: "The Swansea Tidal Lagoon project is an enormously exciting opportunity for the UK to move forward in securing our energy supply.
"We hope that the government now moves forward in delivering this project and others like it without delay."