The runway could be opertaional by 2026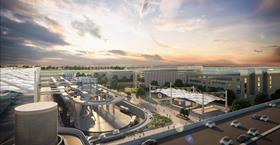 Construction work to expand Heathrow could begin within the next three years.
The government has laid out the timetable for the construction of a third runway at the country's busiest airport after MPs voted in favour of the Airports National Policy Statement earlier this week.
Transport secretary Chris Grayling formally designated the Airports NPS as a national policy on Tuesday, paving the way for Heathrow to submit a formal planning application.
It triggers the next step in a process that could see building work on the £14bn project start in 2021 and the runway operational by 2026.
But the plan is set to face fierce opposition with London mayor Sadiq Khan joining a legal challenge set to be launched by four councils – Hillingdon, Richmond, Wandsworth and Windsor and Maidenhead – whose residents will be under the expanded airport's flight path. Hammersmith and Fulham council has also indicated it will join the battle.
Grayling said: "I have always been clear that this issue goes beyond party politics, and this result demonstrates the clear desire to get on with delivering this vital scheme.
"There is still much to be done, including defending this decision against the potential legal challenges, but we are absolutely committed to working closely with local communities and ensuring Heathrow stick to their promises on addressing the local and environmental impacts of expansion."
The next stage of the process would see Heathrow bring forward detailed proposals for planning consent, which would be submitted to the Planning Inspectorate.
As part of this, Heathrow would need to carry out further consultation with local communities on the finer details of their scheme design and the associated compensation and mitigation packages.
Alongside this Heathrow will continue to develop plans for the necessary airspace changes around the airport, including new flight paths. These will also be subject to consultation with local communities, ahead of being submitted to the Civil Aviation Authority for approval.
Heathrow will also be required to keep Grayling and the parliament appraised of progress, in particular on how it will meet its commitments to the environment, communities, domestic connectivity and delivering a scheme in a timely manner that is cost efficient.