John McDonnell said opposition to the scheme would prevent it ever being developed.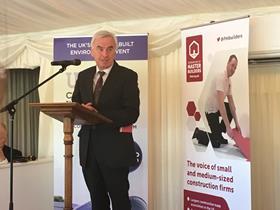 Heathrow's third runway will never be built despite being given a preliminary green light by MPs, according to the shadow chancellor.
John McDonnell, whose Hayes and Harlington constituency houses Heathrow, told Building the controversial scheme will face too much opposition to ever be developed.
Speaking at the launch of the Federation of Master Builder's new construction licensing scheme at the House of Lords yesterday, McDonnell said: "It's not going to be built. Firstly, there will be a challenge in the courts from the local authorities.
"Secondly, further elements of parliamentary scrutiny will take place and the more people see about the impact on air and noise pollution the more there will be mounting opposition. In addition to that, the level of protest and the level of opposition will be such that I can't see it getting off the ground.
"I can't see how the government is going to get around climate change. We beat them in the court last time and I think we'll do it this time. As I said in parliament this will be the totemic site of the climate change campaign. I think we will have people from the rest of Europe to protest against it. So no, I don't think it's going to take off."
McDonnell has been a long-time and vocal opponent of plans to expand Heathrow due to the impact it would have on his constituency.
He said: "My first anti-Heathrow meeting was in 1982 and it was in a Harlington school in Harlington village. We had to move that school out of the village because of air and noise pollution. If this went ahead it would be close to where we moved it to and I don't think people are going to tolerate that."
McDonnell said expansion at Gatwick was now a more viable scheme due to the increase in point to point flying but said ultimately it would be better to invest in regional airports.
He said: "People don't want to be coming down from Manchester to go to Heathrow they'd rather go through their local regional airport. So I think you'll see the development of regional airports."
McDonnell also said government must use its power to shape a construction industry capable of tackling the housing crisis.
He said government had to play a more direct role in addressing the housing shortage.
He said: "They can start building council housing again, making sure housing associations are properly funded and properly supported, working with the private sector, ensuring we've got a planning system that's effective and at the same time where there are new techniques making sure government invests in those techniques.
"We will use procurement at every level, central government, local government and all the other different agencies as well. We will be looking to ensure that we have quality of course and also to ensure that the procurement is used effectively to employ local builders and invest back in our country."