Workload includes 340 contracts across 260 projects
The government has revealed that up to £37bn of infrastructure work will be up for grabs this financial year.
Firms have a chance to share in 340 contracts across 260 projects that includes work that has already been committed to for the 2020/21 year, according to analysis carried out by the Infrastructure and Projects Authority (IPA).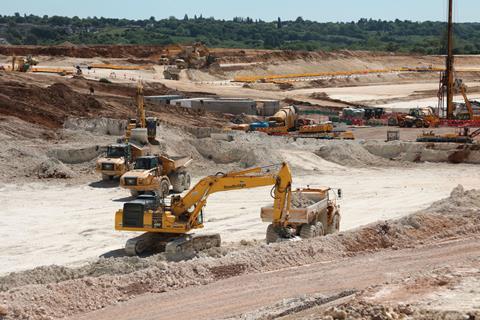 The list of contract opportunities has been published by the government body, which reports into both the Cabinet Office and Treasury.
A £7bn Smart Motorways Alliance contract, which is expected to be awarded in the final quarter of this year, is the highest value job in the pipeline.
This is followed by the £3bn HS2 rolling stock contract and the £2.8bn Stonehenge Tunnel project.
Nick Smallwood, chief executive of the IPA, said this procurement pipeline (see below) is part of the government's response to the coronavirus pandemic.
He said: "In response to covid-19 and subsequent requests from industry to provide short to medium-term certainty, this National Infrastructure and Construction Procurement Pipeline goes a step further by setting out contracts planned to be brought to market throughout 2020/21.
"In publishing projections of short-term procurement, we aim to boost market confidence and help the sector with business planning during this challenging period."
Smallwood said the organisation will also look to publish a full National Infrastructure and Construction Pipeline later in the year.
Construction Leadership Council chair Andy Mitchell has said the pipeline will provide reassurance for the sector, which is facing an unprecedented challenge because of covid-19.
Mitchell said: "As the largest single client of economic and social infrastructure, a strong and clear pipeline of work from government is vital to generating confidence and certainty.
"I am therefore delighted that the government has today responded to one of the proposals in the CLC industry recovery plan and look forward to working with government to deliver these projects over the months and years to come."
The CLC has called for a government commitment to invest in infrastructure and to bring forward public spending to help the sector recover.
In a webinar about the recovery plan, hosted by Building, Fergus Harradence, deputy construction director at the business department, said public sector projects look set to be speeded up to help the industry ride out the fallout from covid-19.
He said contract awards could be handed out sooner than planned in efforts to kickstart a sector which saw output nosedive 40% in April alone.
Infrastructure and Construction Procurement Pipeline